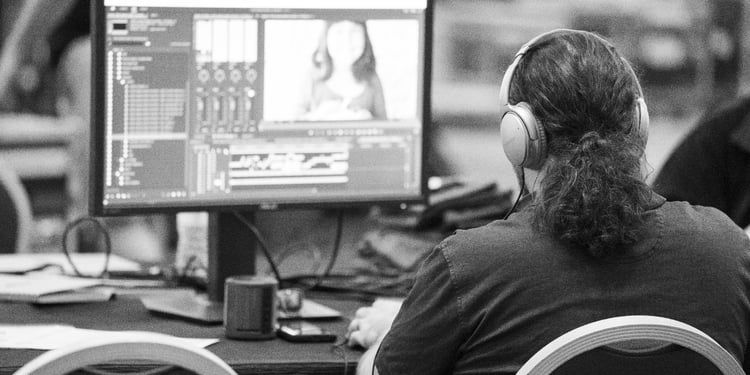 Putting together any live event is a long process and can be an inefficient one if you don't have the right tools to optimize your work. Technology is available that can assist you as you conceptualize, plan, and produce events, making it easy to get your work done quickly and ensure a smooth production.
At Mertzcrew, we have created an event management solution that will help you enhance any live event while boosting your efficiency and engaging attendees. Since we understand the impact that optimization can have on the quality of events, here are four ways that you can optimize your event production with technology.
4 Ways to Enhance Your Live Event Experience with Technology
Using technology is one of the best ways we know to streamline event production while also improving the experience of your attendees. Here are four important ways that you can use technology to create and produce events your clients will love.
#1: Live Translation
We live in a world that is becoming increasingly interconnected thanks to technology and the speed of communication. For that reason, many events have international and multilingual attendees who may need translation to make sure they can experience the event to its fullest.
Live translation used to require hiring human translators to provide real-time translation to event attendees.
Today, technology allows for live translation that is both affordable and accessible. Offering live translation as a feature of your events may make it easier to get people to attend and enhance their experience from the moment they arrive.
#2: QR Codes
We've all become familiar with QR codes, which saw an increase in use during the COVID-19 pandemic as a way to allow people to interact with typically hands-on materials without touching them, including menus and schedules.
In the world of event planning, QR codes may be used to adhere to modern health guidelines to minimize the spread of viruses. They also serve as a digital stand-in for things like event tickets, flyers, postcards, and even business cards. They can be a useful tool for managing event registrations and allowing for everything from contactless event check-in to networking for guests.
#3: Virtual Reality
Virtual reality, or VR, is still in its infancy, but has been used for remote events. Attendees can be given the option to create avatars that attend the virtual event, and with the right technology, they can interact with other guests, attend scheduled events, and more.
Most experts see a future where the use of VR becomes common, with most people having VR headsets in their homes or offices. When travel is difficult or expensive, using VR to create a virtual event can allow people to attend events without overspending or traveling long distances.
#4: Freelance Management Software
Freelance management software is a type of event technology that is already widely used. Using event technology can increase event attendance by 20% and increase productivity by up to 27%. Freelance management software can help to keep costs low while making it easy to optimize your event at every stage.
With freelance management software like Mertzcrew, you can manage your event before, during, and after it ends. Since hiring and managing skilled AV freelancers can be challenging even when everything goes smoothly, it's useful to have software that allows you to get an overview of the event and keep track of every moving part that will make your event successful.
Boost Efficiency with an AV Freelancer Management Platform
The technology that can do the most to optimize and streamline event production is an AV freelancer management system such as Mertzcrew. Here are some of the ways that using crew management software can help you boost your efficiency and create events that your clients will love.
Use Freelance Management Tools to Source and Contract High-Quality AV Freelancers
To produce a successful event, you'll need to engage the most experienced and talented AV freelancers in your area. With freelance management software, you can maintain a list of approved freelancers in one place, where it's easy to access their information and contact them to work your events.
On a related note, you'll also have a place to create compliant contracts and keep track of things like tax forms and insurance. Any time you approve a new freelancer, you can onboard them with Mertzcrew and gather relevant information. You'll also be able to store contracts and other relevant documents, making it easy to check every freelancer's compliance before engaging them to help you with an event.
Streamline Administrative Tasks, Including Contracts and Insurance
One of the most challenging elements of hiring and managing freelancers is keeping track of necessary paperwork. It can be time-consuming to create compliant contracts, collect signed contracts, send and collect tax forms, and keep track of freelancers' insurance, including both worker's compensation and general liability. Insurance can be particularly difficult to deal with if freelancers don't have their own coverage to comply with event requirements.
Mertzcrew can help you out by providing insurance where it's needed and making it simple to track and store legal and tax documents. You won't need to waste time with repetitive administrative tasks, because we'll take care of them—giving you the time you need to focus on producing entertaining and memorable events for your clients.
Take Advantage of Event Management Features
In addition to helping you handle administrative tasks and keep track of your approved freelancers, here are some of the other features you can take advantage of with crew management software:
Onboarding new AV freelancers
Managing freelancers' contracts, work, and payments
Providing and tracking insurance
Tracking freelancer services and skills
Approval of freelancer costs before invoicing, including expenses and per diems
Creating and tracking invoices from freelancers
These features make it easy for you to optimize event production by giving you the tools and functions you need to save time and money. By freeing you from worrying about repetitive administrative tasks, crew management software makes it possible for you to put more of your attention on producing the event itself.
Have Real-Time Communication with Crew Members
Finally, the right crew management solution should facilitate real-time communication with your AV freelancers and crew to ensure that live events go smoothly. With everybody connected, you can communicate with everybody involved with your event immediately.
Communication is the key to a successful event because it means you'll be able to adapt to situations as they arise, making sure that everybody knows what's happening and what they need to do as a result. Since many event challenges are caused by a lack of communication, it stands to reason that real-time communication should be a priority for everyone involved.
Promote Your Live Event and Engage Attendees
There are many ways to use technology to optimize your event production and manage freelancers, but technology can also be used to promote your live event and engage the people who attend it.
Promote Your Event on Social Media
There's no denying the power of social media to bring people together and facilitate engagement in any industry. When planning your events, you can use social media sites such as Facebook, Twitter, Instagram, or LinkedIn to promote the event itself, share links to buy tickets, and highlight speakers and performances.
Using technology can help you create and schedule social media posts and ads, putting them in front of the people who are mostly likely to be enthusiastic about your event and eager to attend. You can also hype your event in the days leading up to it, getting attendees excited about what's to come.
Enable Social Media and Real-Time Communication for Attendees
On a related note, social media is also useful for communication during your event. For example, you can use technology to integrate social media feeds and comments as part of your live event, allowing those who aren't there to be part of the conversation.
You can encourage live interaction by allowing social media users to ask questions, attend panel discussions, and participate in hashtag campaigns to raise awareness and get the word out about your event in real time.
Live Streaming to Reach Attendees Who Can't Be There in Person
If there's anything we learned from the COVID-19 pandemic, it's that technology can bring us together virtually when we can't be together in person. Even as travel resumes, it's still going to be the case that some people who want to attend your event won't be able to be there in person.
Live streaming technology, including tools such as Zoom, Google Meet, Skype, and even social media live video using Facebook, Instagram, or YouTube, can close the distance between in-person and virtual event attendees, making it possible for everyone who wants to participate to take advantage of your event and learn from it.
Let Crew Management Technology Help You with Event Production
It's time to start using technology to optimize your event production. You can implement a variety of tools to contract and onboard freelancers, manage their paperwork and compliance, facilitate real-time communication, and enhance the attendee experience at the events you plan.
Is Mertzcrew the right AV freelance management software for you? Find out by clicking here and scheduling a free, 15-minute assessment call. We'll discuss your specific needs, the benefits of using Mertzcrew, and how it can help you book quality AV freelancers, streamline administrative tasks, reduce costs, and help you execute your best AV project.
Topics: AV Techs, Crew Management & Scheduling