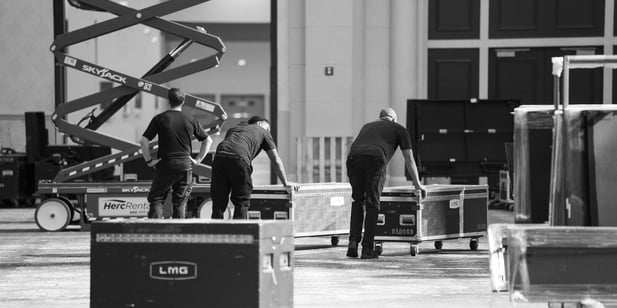 Managing freelancers for events can be time-consuming and complicated without the proper tools. Without a system that allows you to onboard new freelancers, negotiate contracts, and schedule them for events, the process of freelance management can add to your stress and make it more difficult to create events that will wow your clients and entertain their audiences.
At Mertzcrew, we're proud to provide a unique freelance management solution that does all these things and more, including providing general liability and workers compensation coverage. If you're wondering why you need an AV freelancer management system and how you can benefit from using one, we have the answers. Here are nine key benefits of using a freelance management system for your event production.
What Is a Freelance Management System?
It has become increasingly common for organizations in every industry to use freelancers to complete crucial tasks and projects. Because freelancers are self-employed, there are different rules for managing their contract and payments. They don't fit into the usual payroll systems and as a result, it may be necessary to use multiple tools to manage their time and process invoices to pay them.
That's where freelance management systems come into play. If you contract AV freelancers, a freelance management system can help you oversee the entire process of contracting freelancers from start to finish. It may include features that allow you to do the following things from a single dashboard:
Onboard new freelancers
Manage the administration of freelancers' contracts, work, and payments
Provide insurance for freelancers to protect your clients and everyone involved in an event
Create a timeline with each task to be completed
Provide clear goals for the project
Track freelancers' services before, during, and after events
Create and track invoices
Pay freelancers
Create internal reports to help you manage your freelance workers
Most freelance management solutions are cloud based, meaning that you can access your dashboard from any device. The easy access to your system provides you with the flexibility needed to manage events and freelance workers from anywhere, whether you're in an office or on site at an event.
Best of all, freelance management software allows you to centralize your contracts and all other aspects of freelance management. Instead of spending your valuable time juggling multiple tools, you can keep everything in one place.
Who Needs a Freelance Management System?
According to Pew Research, there were approximately 16 million Americans who were self-employed as of 2021, the last year for which numbers are available. While not all of those people are freelancers, many are—and companies are relying on independent professionals and contractors for crucial roles and projects.
The Financial Times reported that job listings for contract workers were up by 26% between May and November of 2022. The freelance workforce plays an essential role in the United States economy.
Any organization that contracts with freelance workers can potentially benefit from using a freelance management system. Traditional payroll systems may be able to accommodate some things associated with contracting independent workers, such as generating 1099 forms and tracking services, but many are not set up to negotiate or manage contracts or insure multiple freelancers.
The issue of freelance management looms large for event production and AV companies since most use freelancers for every event they run. The right freelance management tool can streamline the process of planning an event and shave hours off the process.
What Are the Features of Freelance Management Tools?
Any event production company that decides to use a freelance management solution should consider which features are most important and narrow their choices based on their priorities. Some of the features to consider include the following.
Freelancer Insurance Management
In the world of event production, any freelancers contracted to work an event must have proper insurance, including general liability coverage and workers compensation. Mertzcrew allows event production companies to both obtain and manage insurance for their freelancers.
Contract Creation
Freelancers are contract workers. With a freelance management platform, you can create compliant contracts for all of your freelancers and keep them on file for easy reference or renewal.
Creative Talent Management
With a freelance management solution, you can track your vetted freelancers. With all of your potential AV freelancers in one place, it's easy to find people with the skill sets and talents you need and staff an event with people you trust.
Freelancer Contracting & Onboarding
It's easy to contract freelance workers and onboard them with a freelance management system. You can take care of administrative tasks with a few clicks and minimal stress. Best of all, you can manage everything from a single dashboard that you can access from anywhere.
Event Administration
Administering an event means keeping track of freelancers' schedules, services provided, and more. An AV freelance management system simplifies event administration, making it easy to keep track of everything in one place.
Invoice Processing & Payments
After an event, you'll need to collect invoices from freelancers and process payments. A freelance management system can minimize paperwork and process invoices quickly to keep your freelancers happy.
9 Benefits of Using a Freelance Management System
Here are nine of the most important benefits of using a freelance management system for event production.
#1: Save Time
The most important benefit of using freelance management software is that it can save you hours of time on every event you plan. It's common for event production companies and HR departments to spend hours managing freelancers with a spreadsheet or with a hodgepodge of tools that they've accumulated to accomplish necessary tasks. With a freelance management system, you can easily complete all freelance management tasks quickly and easily, streamlining the planning process.
#2: Easy Onboarding
Onboarding freelancers and complying with tax and insurance requirements is something that requires a lot of legwork and time. With the right FMS, you can easily onboard new freelancers, collecting necessary information, including tax forms and contracts. You can also communicate to make sure that everybody involved with an event knows what they're supposed to do and where they're supposed to be.
#3: Easy Compliance
Compliance is one of the most complex aspects of contracting freelancers. You'll need to think about local labor laws, state and federal tax requirements, insurance requirements, and more. With a freelance management solution that includes compliance features, it's easy to collect and create tax forms, including W-9s and 1099s. You can also keep track of local and state regulations, create compliant contracts, track insurance, and be sure that your freelancers are properly documented.
#4: Easy and Timely Payments
Paying freelancers is something that can be time consuming if you need to input invoices individually for payment. There's a risk of human error and freelancers who aren't paid in a timely manner may not want to work future events for your company. With an FMS, it's easy to manage invoices and pay freelancers after an event.
#5: More Efficient Project Management
Creating any event requires a lot of work and planning. With the right FMS, you can find skilled freelancers and see who's available to work your event, track their services, negotiate rates, and handle every other aspect of each project with a minimum of stress.
#6: Build a Talent Network
One of the best things about using an FMS is that you can keep track of every freelancer you've worked with, creating a talent network that you can draw upon every time you plan a new event. You won't need to comb through online directories or rely on your memory because your talent pool will be at your fingertips.
#7: Avoid Mistakes and Oversights
Anybody who has ever attempted to manage an event without a centralized management system to help them knows that it's easy to overlook things and make mistakes. You might not know if a freelancer doesn't show up for their scheduled services or complete an assigned task if you don't have an easy way to keep track. A freelance management solution like Mertzcrew can help you oversee your crew at every step of the way to make sure that your event goes smoothly.
#8: All-in-one Solution
If you're using several tools to manage your freelancers and plan events, then you know how time-consuming and frustrating it can be to juggle multiple solutions instead of having everything in one place. With an AV freelance management system, you can manage everything having to do with your contract workers from a single, easy-to-use dashboard.
#9: Avoid Micromanagement
When you're producing an event, there are a lot of moving parts. It can be easy to micromanage instead of managing, and you're likely to waste hours of your valuable time in the process. With a robust freelance management system, there's no need to micromanage because everything is in one place. You'll be free to focus on the big picture: creating an entertaining and successful event for your clients.
Get the All-in-One Freelancer Management Solution You Need
The key to creating and running a memorable and impactful event is assembling and managing the right talent to bring your vision to life. Freelance management software can help you save time, avoid costly mistakes, and keep a pool of talented freelance workers at your fingertips.

Are you looking for an easy platform to manage your freelancers? It's time to see if Mertzcrew is the right crew management software for your needs. Click here to schedule a free 15-minute assessment call where we'll discuss your needs, the benefits of using Mertzcrew for freelancer management, and how we can help you build a talent pool of quality AV freelancers, reduce your administrative costs, and execute your best AV project.
Topics: Contracting AV Techs