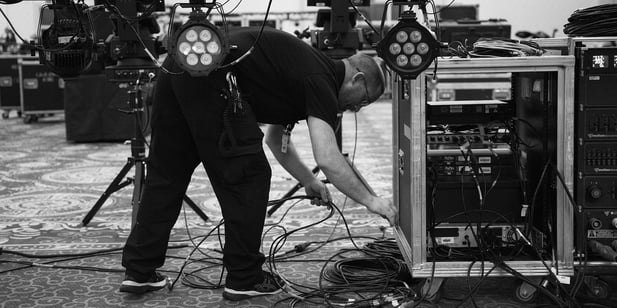 When you're scheduling and running a production or event, whether it's large or small, production insurance is a key concern and something that must be prioritized. Every freelancer you contract must be insured to protect both themselves and your company as well as your client. On top of that, you need insurance to shield you from liability and protect your equipment in the event it is damaged, destroyed, or stolen.
At Mertzcrew, we provide a freelance management solution that simplifies the process of tracking production insurance. Instead of trying to track individual freelancers, we give you the ability to oversee every aspect of your event—including insurance—to free your time for other things. With that in mind, here are three ways that using crew management software can simplify production insurance.
What is Production Insurance?
Let's start with the basics. Production insurance covers many of the risks associated with producing an event. It protects you and your staff, the freelancers you hire, your production gear, and the venue where your event is held.

It's undeniable that running an event has the potential to be risky. There are a lot of moving parts. You and your staff will be working both on- and off-location, and you'll be contracting skilled freelancers to work for you. You all need to be protected against liability and injuries. Your equipment also needs to be protected.

There are many entities that may benefit from purchasing a production insurance policy, including event production companies and film and television production companies. By purchasing insurance, the people running an event or production get protection against liability for things that occur during the course of production.

Like many other insurance products, there are standard coverages that come with production insurance. It's also possible to purchase additional coverage in the form of endorsements to customize your insurance policy. Doing so can help to fill in gaps in your coverage and protect you from things that aren't covered by a standard production insurance policy.

Running an event or production without production insurance opens you up to liability. Even the most carefully planned event can experience issues and accidents from crew injuries to broken gear. Buying production insurance gives you the peace of mind of knowing that, if there is an accident, you'll be covered.
How Much Does Production Insurance Cost?
One of the biggest concerns related to production insurance is the cost. There's no denying that it's an added expense but the expense is worthwhile when you consider the potential consequences of not having insurance.

Here are some of the factors that may impact how much you pay for production insurance:
Which events and types of liability are covered by the production insurance policy, including policy and coverage limits and any additional coverage added. If you customize your policy with endorsements or choose a high policy limit, you should expect to pay more for production insurance.
The specific risks associated with the production. Some productions are riskier than others. As a rule, large venues carry more risk than small ones. Outdoor events have their own risks that may not apply to indoor events.
The value of your production equipment. Production equipment may be minimal or extensive. Since your equipment is what helps you pull off a successful event, it's essential to purchase enough insurance to protect it if it is damaged or stolen.
What Is Covered by Production Insurance?
Now let's review the various things that are covered by a production insurance policy. There are four categories of coverage:
General Liability Insurance. General liability insurance protects against bodily injury and property damage caused by third parties in the course of a production.
Equipment Coverage. Equipment coverage protects your gear from theft, damage, or loss incurred during an event.
Professional Liability. Professional liability, also known as Errors & Omissions coverage, protects production and event companies against lawsuits from clients claiming that the work done was negligent, unsatisfactory, late, or incomplete.
Workers Compensation. Workers compensation will pay for lost wages and medical expenses for freelancers who are injured in the course of their work for you.
These four types of coverage work together to provide complete protection for you, your staff, and any freelancers you contract for an event.
What is Crew Management Software?
Creating and running events requires careful planning and coordination. Crew management software can help you with every aspect of running your events, eliminating repetitive tasks and giving you access to the documents and information you need.

Simply stated, crew management software is software that facilitates things like time tracking, invoicing, and crew communications. You can use it to schedule and manage the freelancers you contract, keeping track of their assignments and shifts. It's far more efficient than working with multiple spreadsheets or documents to manage an event.

When you use crew management software such as Mertzcrew, the process of managing your crew is simple. You'll have easy access to legal documents, compliance information, and insurance information whether you're in your office or on site at an event. Two-way communication with freelancers is easy, too, so you can get in touch with freelancers and they can share their availability with you.

Mertzcrew's features include options to do the following things:
Create customized & compliant contracts for freelancers
Manage collection of W-9s from freelancers
Distribute 1099 forms
Maintain a list of skilled freelancers and track availability
Confirm freelancer pricing before an event
Manage and pay invoices, per diems, and expenses
Track freelancer insurance information
Provide coverage for those without insurance
That last item is the one that sets us apart from other crew management solutions. We'll work with your insurance provider if you have one, but we can also take care of the insurance part of event production for you.
3 Ways Crew Management Software Simplifies Production Insurance
Here are three ways that using crew management software can simplify production insurance and help your events go smoothly.
#1: Obtaining & Managing Workers Comp Insurance
With crew management software, you can save time tracking freelancer insurance details, something that can be quite time-consuming if you're using a spreadsheet. Outsourcing workers comp provides peace of mind and security for you and your company.

Remember, Mertzcrew can do more than help you track insurance, we can also help you obtain it. We provide industry-leading insurance protection at or above US venue and arena requirements.

With proper workers compensation coverage and tracking, you can stop worrying about insurance and focus on producing a memorable and successful event.
#2: Tracking Certificates of Insurance
In a perfect world, all freelancers would carry their own workers compensation insurance and be able to provide a Certificate of Insurance (COI) for you to reference as needed. As every event company knows, that's not always the case.

At Mertzcrew, we make it easy to collect and track COIs when they're available and obtain and provide workers compensation insurance for freelancers who don't have their own. COIs will be accessible to you at any time, so you can always prove that you've got the coverage you need.

In other words, we remove the guesswork from tracking certificates of insurance, so you can focus on other things.
#3: Maintain Compliance with State and Federal Regulations
When you partner with Mertzcrew, we'll be your agent of record for insurance. Our personalized contracting process is constantly updated to make sure that we're current with federal and local requirements, staying abreast of the frequently changing rules.

You can count on us to make sure that your company and any events you run are in compliance with federal, state, and local insurance requirements. As we mentioned above, we provide insurance that's at or above US venue and arena requirements.

Compliance can be time-consuming, particularly if you're running events in more than one state or venue. Mertzcrew takes care of compliance for you, so you'll never need to worry about being protected.
Simplify Your Production Insurance with Mertzcrew
Production insurance is a necessity in the world of event and production management. Without insurance, your company and the freelancers you hire may be at risk of lawsuits and expenses that you shouldn't have to pay. Buying production insurance provides peace of mind–and using crew management software can take the guesswork and stress out of obtaining and tracking production insurance.

Do you need an easy way to track and manage your production insurance? Mertzcrew is here to help! Click here to read about our crew management solution, with details about insurance management, and request a demo today.
Topics: Production Insurance