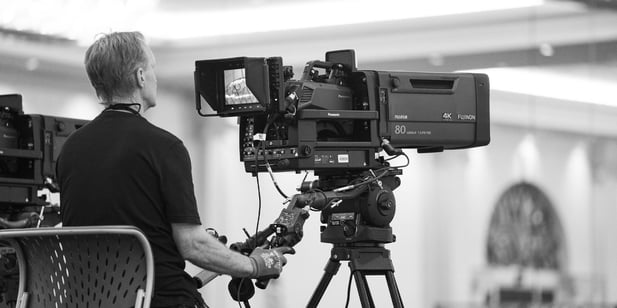 Producing a successful and entertaining experience requires event management. With the right freelancers on your crew, everything will go as planned and the result is a happy client. The best way to ensure smooth sailing is to choose skilled freelancers and assign them to event roles where they can do their best work.
At Mertzcrew, we provide a unique freelance management solution that makes it easy to contract and onboard the best event professionals, put required insurances in place, and oversee every aspect of event crew management. With that in mind, here are some pointers to help you assign event roles with crew management software.
How Do You Structure an Event Team?
Structuring an event team is a multi-step process that can be made much easier with the use of freelance management software. Here are the things that go into event team structure:
Determine goals. You'll need to know what you want to accomplish before you can decide who should be on your team.
Analyze tasks. Each event is unique, so it's essential to look at each task that must be assigned to determine the skills required to successfully complete it.
Contract the right freelancers. You can review your list of trusted freelancers to find the people with the skills and experience you need for your event to be successful.
Communicate the end-client's expectations for the event. Everybody on your team should understand the end-client's expectations for the event and be on board with working together to meet them.
Delegate tasks. Task delegation is essential for event production. You'll need to create a detailed timeline that includes each task to be completed and provide clear goals for the project.
Communicate clearly. Communication is the cornerstone of event production. Your crew members need to be kept in the loop with clear communication of what they're expected to do and how they're expected to do it.
Evaluate team performance. Provide ongoing feedback so freelancers can do their best work before, during, and after the event.
Provide incentives. One of the best ways to have a successful event is to incentivize team members. Freelancers who do their best work will be rewarded with opportunities to come back on future projects.
What Is an Event Roster?
An event roster is a scheduling tool that makes it easy for event production companies to keep track of which freelancers are working an event, what they're doing, and when they're doing it. A successful event is always a team effort and with an accurate event roster, you can keep track of your freelancers and their assigned tasks.
Tracking freelancers' services and work is important because when an event is over, the freelancer will send an invoice to you. While it's the freelancer's responsibility to submit an accurate invoice, it's the event company's job to verify the invoice for accuracy and pay it in a timely manner. Creating an event roster and tracking freelancers' time and work makes it easy—with the help of freelance management software—to quickly verify and pay invoices.
Can You Use a Tool to Manage Your Event Roles?
Managing the roles of an array of freelancers as they work to create an event requires careful attention to detail. Without the right tools, event companies may find themselves juggling Excel spreadsheets and other less-than-ideal solutions to make sure that the event goes off without a hitch.
Crew management software is a solution that can provide event production companies with the tools and capabilities they need to assign event roles, create a roster, track freelancers' services, and much more.
Using freelance management software means that you'll spend less of your valuable time scheduling freelancers to work at your events and more time on the important tasks that require your attention. With so many crucial time and crew management tasks taken off your plate, you'll be able to focus on the big picture of your project and create entertaining and successful events that your clients will love.
Crew management software allows for optimal communication with all members of your crew as you prepare for your live event and produce it. Monitoring freelancers' services helps to streamline the processing and payment of invoices, too.
What Is Crew Management Software?
Crew management software, also known as freelance management software, is software that facilitates the contracting and management of freelance workers. It is often used by event production companies who rely on freelancers to fill essential production tasks.
Crew management software can do the following things:
Schedule and manage freelancers, keeping track of their roles
Facilitate communication with freelancers
Track freelancers' services
Verify and pay invoices
Keep track of legal documents related to freelancers, including contracts, insurance, compliance, taxes, and more
Track freelancers' availability for events
Freelance management software provides an efficient and time-saving solution to assigning and managing event roles to freelancers. Instead of juggling multiple spreadsheets and other tools, you can have everything you need in one place.
Mertzcrew provides crew management software that includes all the features you need, including one that no other software provides:
Creation of customized and compliant contracts
Collection of W-9 forms from all freelancers
Distribution of 1099 forms to freelancers
Approval of freelancer services before invoicing
Timely payment of freelancer services, per diems, and expenses
Acquisition of freelancer insurance, including workers compensation and general liability
That last point is what most companies typically need when they join Mertzcrew. You will have peace-of-mind to know that every freelancer you contract with is properly insured, so that you (and your clients) are protected.
How Do You Manage Event Assignments?
The right crew management software solution will help you manage event assignments easily and with a minimum of stress to make sure that your events are successful and your clients are happy.
Determine Needed Roles and Clarify Responsibilities
Crew management software can help you produce every event with ease. The first step is to determine needed roles and clarify the responsibilities of each crew member needed. The description may include the following:
Role title
Responsibilities
Project scheduled
Required skills & experience
Training & certification requirements
By detailing the roles and responsibilities of freelancers, you'll be able to quickly evaluate your list of potential workers and choose the freelancers who are available and best able to provide the expertise your event requires.
Map Out Tasks and Stations by Time and Location
After you've detailed the specific skills required for your event and identified necessary tasks, the next step is to determine which tasks must be completed, and where. Some tasks leading up to the event may be completed offsite, while many will need to be performed on the day of the event and onsite.
The details you include at this stage will help you decide which skills are necessary and find the freelancers who are best suited for the job.
Post Opportunities to Qualified Individuals
Your schedule will allow you to dive into your list of approved and trusted freelancers—which you can easily track with Mertzcrew—and choose the most qualified and talented AV professionals for your event.
If you already know freelancers that are best suited for your project or If you need to recruit new freelancers, you can use crew management software to collect their information, onboard them, and make sure that they're ready to join your team. Once they're connected to your account, you will always have access to their information and they can be contracted even faster in the future.
Take Advantage of User-Friendly Data and Communication Tools
The prepwork you do leading up to an event is crucial, and communication and data both play a role. You'll need to stay in constant contact with everyone on your crew, and freelancer management software like Mertzcrew can help you do it.
With Mertzcrew, you can handle every aspect of managing your crew:
Create your event roster and schedule
Find the right freelancers to make your event a success
Onboard freelancers and create compliant contracts
Collect W-9 forms
Obtain workers comp and general liability insurance for your crew members
Assign freelancers to specific roles
Track freelancers' services
Monitor freelancers' efficiency
Communicate with your crew whenever it's necessary to make sure they're aware of what's happening and that your event runs smoothly
With Mertzcrew, you can stop spending your time on mundane tasks and focus on delivering an entertaining event that exceeds your client's expectations.
Take the Guesswork Out of Assigning Event Roles with Mertzcrew
Producing events requires careful planning and attention to detail, but it shouldn't require hours of work juggling multiple tools. The solution is to find robust crew management software that will handle mundane tasks for you, leaving you free to deliver events that wow your clients.

Do you need crew management software to make your events the best they can be? Mertzcrew is here to help! Click here to schedule a free, 15-minute assessment call to see if Mertzcrew is right for you. We'll discuss your event production needs, the benefits of using Mertzcrew, and how we can help you book qualified AV freelancers, reduce your administration costs, and execute your best AV projects.
Topics: Contracting AV Techs