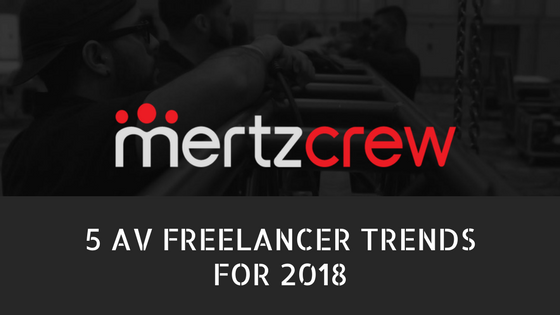 Freelancing in the AV industry is continuing to grow as an integral part to the success of almost every AV company. In general, freelancing continues to be a growing trend in the US economy with 34% of US workers currently freelancing in some form and this number is expected to grow to 43% by 2020.
With those stats in mind, AV companies should stay aware of key trends that may affect AV freelancers. Below are the top 5 trends I anticipate for 2018:
#1.) The Debate About Freelancer Classification And Compliance Will Continue To Be An Issue
Many AV companies know Independent contractor compliance is an important topic and most companies have a general idea of what is required. However, many AV companies fail to consistently manage and execute a fully-compliant process that aligns with the various state & federal compliance laws.
Read More
Topics: AV Techs, AV Industry Pro Sessions, Technician Training, Compliance, Workforce Development

Looking to get technically trained on current Pro AV gear? Come to one of Nationwide Video's Technician Training Courses.
These are syllabus-driven, hands on, interactive workshops taught by industry professionals. Technicians will confidently leave with new repeatable skill sets, and a deep knowledge of the equipment.
Each of their expert trainers have from 15-25+ years of Pro AV field experience.
Travel and expenses are the responsibility of the trainee.
For more details check out www.nationwidevideo.com/training, or to discuss a custom workshop, send an email to info@subrent.com or call 800-935-2323
If you are registered with Mertzcrew and you select a training program offered by Nationwide Video, you can enjoy 10% off of the cost of the courses!
Read More
Topics: AV Techs, AV Industry Pro Sessions, Technician Training, Workforce Development
Every year the Infocomm show brings something new and exciting to the AV industry. On the show floor and demo rooms, you have the latest technology from the exhibitors. In the classroom, you have new education sessions being offered by some of the best in the business. This year's show has the most updates I have seen in quite some time. As a live event professional, here are my top 5 must-see items at the show.
Read More
Topics: Technician Training, Infocomm