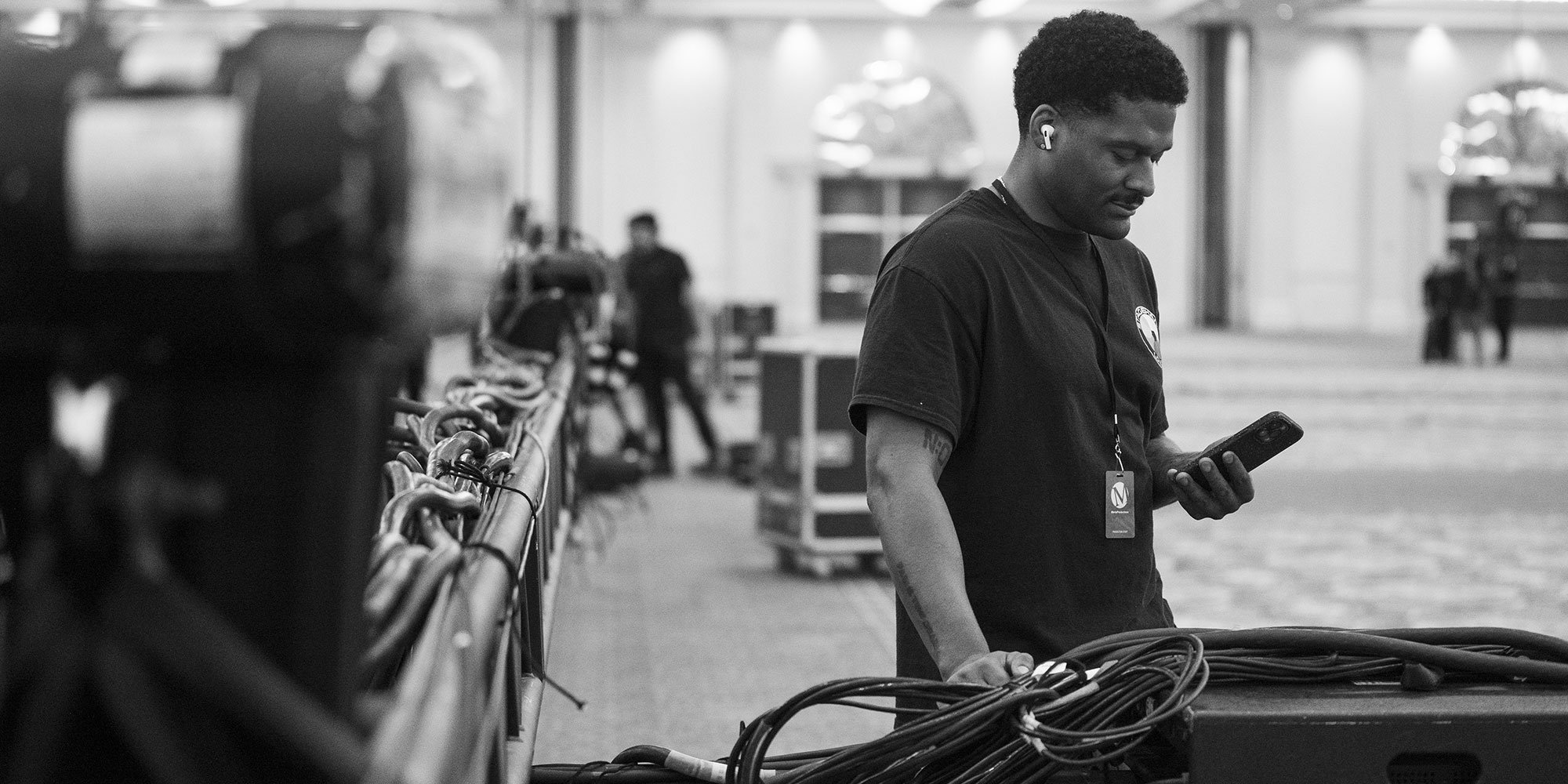 Producing memorable events takes a great deal of time and energy. With many moving parts to integrate, including equipment, labor, and timing, it's essential to have the right tools to streamline planning and communication to get the best possible result.
At Mertzcrew, we have created a crew management solution that provides all the tools you need to find, onboard, and manage skilled AV freelancers to work your events and create experiences that your clients will love. Here are five tips for effective communication with audio visual freelancers.
How Does Effective Communication Improve Event Operations?
There are a lot of things that go into producing a successful event, with specific tasks assigned to AV freelancers and others. Everything must be planned properly and timed correctly. And even with the most detailed planning, there's a need for flexibility because it's always possible that something won't go the way you intended it to.
Effective communication is the key to planning and producing any event because it's what allows all the moving parts of the event to work together. Without clear communication, messages can get lost in translation, people may miss their cues, and unplanned circumstances can cause problems with the potential to throw the entire event off course. Here are some of the ways that effective communication improves event operations.
Communication Clarifies Roles and Tasks
You and your staff, along with the freelancers you find, need to work as a cohesive team to carry off a successful event. Teamwork is possible only when every team member understands their role and the tasks assigned to them.
Centralized communication guarantees that every member of your team knows what is expected of them and when it is expected. Your team can all work together toward your shared goal of producing an event that makes your clients happy.
Two-Way Communication Allows for Easy Crisis Management
Murphy's Law says that if something can go wrong, it will. That's an adage that's certainly true in event production. The key is to be sure you have a way to keep everyone on your team up to date on schedule changes and challenges.
Using a crew management solution like Mertzcrew ensures that you'll have the ability to communicate quickly and clearly with everybody on your team at once using a centralized system.
5 Ways to Improve Events with Effective Communication with AV Freelancers
Communication is the key to producing a successful event. With that in mind, here are five ways you can improve the events you produce with effective communication.
#1: Establish Communication Rules for AV Freelancers
For communication to be clear and effective, it's necessary to establish rules and expectations before you begin working on an event. When everybody knows what is expected of them and how they should communicate, there's less of a chance that you'll be unable to get in touch with someone or wondering where they are.
Some of the rules we suggest include guidelines for availability and responding to communication. For example, you might tell AV freelancers who are working an event that you expect them to be in communication between 8 AM and 6 PM. You might further instruct them that they need to respond to communication within 12 hours of receiving a message. These things will help everybody get on the same page and communicate clearly.
#2: Plan for Freelancers' Time in Advance
With proper communication, you can keep track of freelancers' availability and create an event plan that keeps everyone in the loop and on schedule for the event and any tasks assigned to them.
#3: Put Communications in Writing
One of the riskiest things you can do when creating an event is to communicate without documenting what you've said. You may have all the various aspects of the event in order in your mind but you can't and shouldn't expect your AV freelancers to keep everything straight without written communication.
With a tool like Mertzcrew, you'll have what you need to facilitate clear written communication at every step of the way as you plan toward an event. You can create crew rosters, establish event schedules, send messages, and more, and you can be sure that everybody has the written information they need to carry out a successful event.
On a related note, you can also use Mertzcrew to look at past communications, refer to freelancer contracts and insurance, and get a handle on every aspect of your event to be sure that you have the information you need.
#4: Limit Communication to Necessary Information Only
One of the pitfalls of planning a complex event is that important information and directives can get lost in the shuffle, particularly if your lines of communication are getting clogged with chit chat and unnecessary information.
You can and should tell your team how and when you expect them to communicate. Using Mertzcrew, you can make sure that your most important directives find their way to every member of your team, leaving them with the information they need to complete tasks and impress your clients.
#5: Let Freelancers Know You Trust Them
If you use Mertzcrew to build a list of vetted and approved AV freelancers, then you already know that the people you find to work events have the skills and expertise necessary to help you impress your clients. For that reason, it's useful to let freelancers know up front that you trust them to communicate as needed.
Part of establishing effective communication is trusting that your team understands what you expect and doesn't feel the need to clog up your communication channels with unnecessary check-ins and updates.
Benefits of Using Freelancer Management Software to Improve Communication
You have our tips about how to improve your event operations with effective communication. Now, let's talk about some of the benefits of using Mertzcrew to improve crew communication:
Mertzcrew supports event operations by providing operations managers and project managers with the tools they need to schedule AV freelancers' time.
Communication with Mertzcrew is easy because you are able to send out communications from just one place. You can be connected with your AV freelancers and company staff wherever they are, and at every stage of your event from planning through production.
You can communicate schedules and locations with freelancers in real time, providing them with the details they need to do their work and create events that your clients will love.
It's easy to refer back to earlier communications to collect invoices from freelancers and pay them for approved work they have completed.
Using Mertzcrew can eliminate confusion and misunderstanding, increase coordination, and make every event a success with clear, simple communication.
Key Takeaways
If you're an operations manager or a project manager, you know how important communication is as you plan events. Without the means to communicate with AV freelancers and let them know what's on their schedule and when milestones must be completed, the risk is that your event may not be as successful as you need it to be.
With Mertzcrew, effective communication is easy because it's all streamlined and can be managed from one place. All of your freelancers will have access to the important contacts on your project, with the ability to contact you with any issues or questions as they arise.
Best of all, our communications tools are part of a complete freelance management system that facilitates the collection of relevant information, including insurance, tax forms, invoices, and more.
Improve Your Event Operations with Mertzcrew
Your event operations are only as smooth as your communication. The five tips we've included here can help you use crew management software like Mertzcrew to streamline your communications and keep your entire team on track to produce successful events that your clients will love.
Do you need a crew management solution to improve your communication? Mertzcrew can help! Click here to schedule a free, 15-minute assessment call where we'll discuss your needs, the benefits of using Mertzcrew, and how we can help you book skilled AV freelancers, streamline administration and communication, and execute memorable events.
Topics: Crew Management & Scheduling