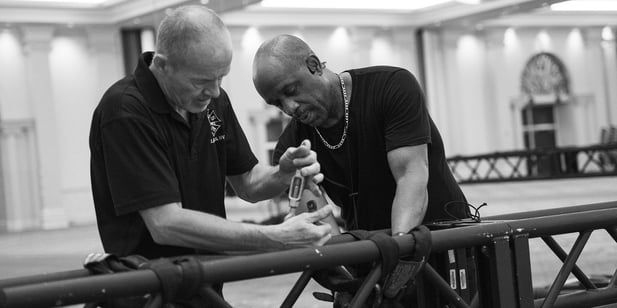 Event production companies often contract AV freelancers to help them with specialized work before, during, and after events. One element of contracting freelancers that can be particularly time-consuming is tracking their workers' compensation coverage, something that's required to protect both the freelancers themselves and your company.
At Mertzcrew, we understand that dealing with the insurance aspects of event production can be especially burdensome when you have many tasks on your plate. That's why we've created a crew management solution that simplifies insurance management. We can even cover the workers' compensation insurance for the freelancers if they don't have it. So, with that in mind, here's our complete guide to freelance workers' comp insurance.
How Does Workers' Comp Insurance Work?
As its name implies, workers' compensation insurance is there to protect workers. Employers are legally required to buy workers' comp for their employees, but the process is a bit more complicated for event production companies who contract AV freelancers to work events.
A small number of freelancers carry their own workers' compensation insurance because they know if they aren't covered, then they can't work, and ultimately can't get paid. Here are the highlights of how workers' comp insurance protects you and freelance workers.
Provides Benefits if Freelancers Can't Work
If a freelancer is injured in the course of their work for you, they may accrue medical expenses. Without insurance, these workers can pursue coverage under your policy to pay their medical expenses, which then impacts your coverage and policies costs.

Freelance work has its benefits but has various requirements that could present a host of risks if they're not addressed. Providing a workers' comp insurance solution helps freelancers and you by supporting them if they can't work due to a job-related injury or illness.

Additionally, workers' comp insurance can replace wages from lost work time, which provides peace of mind to your freelancers when they work for you. Without this coverage, you could find yourself paying those "lost payments" out of your own pocket.
Provide Benefits to Your Company and the Freelancers You Hire
Finally, workers' comp insurance provides benefits to both you and the freelancers you contract. The benefit to freelancers is that, when they have workers comp protection, they're not financially responsible if they experience a work-related illness or injury. Workers' comp can pay their medical bills and replace lost wages, as we noted above.

Contracting uninsured freelancers represents a risk for event production companies, too. Without appropriate workers' comp coverage, the company may be held liable for a freelancer's injuries and any medical bills associated with that injury. Workers' comp removes the risk, providing peace of mind.
Do I Need Workers' Comp Insurance for Independent AV Contractors?
You may be wondering whether you need workers' comp insurance for your independent AV contractors. When we talk about need, there are two angles to consider. The first is compliance with state and local laws, as well as venue requirements. The second is protection for yourself and the freelancers you hire.

Let's start with regulations. The regulations around workers' compensation insurance vary from state to state. Each state has its own rules regarding insurance for 1099 workers, so that means you'll need to be aware of the requirements and comply with them to be sure you've got the protection you need.

If you're wondering what the requirements are, you should refer to your state's department of labor for specific information. You can also partner with Mertzcrew to get a crew management solution that can help you track or even obtain workers' comp insurance for your freelance professionals.

The other issue with compliance relates to event venues. It has become increasingly common for venues to bar event production companies from allowing workers onsite who don't have adequate insurance because it protects them from potential liability. Some AV production companies have required freelancers to demonstrate they have their own individual workers' comp policies for this reason, often to limited success. In these cases, it becomes the burden of the company to provide the coverage, increasing the inherent risk of their policy.

The bottom line is that there are key requirements that must be met when contracting uninsured freelancers. You can try and make coverage a requirement for freelancers, but your likely to be met with minimal compliance. The other option is to partner with Mertzcrew and let us handle the details of providing workers' compensation coverage for the freelancers contracted to your project.
Who Pays for Workers' Comp Insurance?
The question of who pays for workers' comp insurance has several answers that depend on the worker's employment status and the preferences of the company hiring them. For traditional employers with W2 employees, it is the employer's responsibility to pay for workers' compensation insurance. Typically, this is a legal requirement with coverage determined by state law.

When it comes to independent contractors and freelancers, the requirements get a bit trickier. Some states waive the requirement for single-member contractors to carry insurance. Others require that freelancers purchase individual workers' comp insurance to protect themselves and the people they work for. In either case, venue requirements will ultimately be more important than what the state requires.

At Mertzcrew, we understand the risks that accrue to AV companies if they contract freelancers who aren't protected by workers' comp. While most freelancers may not purchase individual coverage, some do. That means you'll need a way to collect COIs to verify coverage, ensure the quality is reasonably good, or provide coverage if a freelancer doesn't already have it. Once a freelance worker is covered by workers' comp insurance, your risk is reduced if they have a work-related injury or illness, so you can reduce your company's liability if you know the freelancers are covered. (Some states make it easier for workers to sue over a workplace injury even when workers' comp is in place, so make sure to check.)

Mertzcrew makes it easy to collect and track COIs and we'll even provide workers' comp insurance coverage for freelancers who don't have their own policies. Since your company could be on the hook if you hire uninsured freelancers, working with us can help you protect your freelancers and your company in the event of an on-the-job illness or injury.
How Do You Obtain Workers' Compensation Insurance?
As an AV production company, you have multiple ways that you can obtain workers' compensation insurance for freelancers. Here are your options.
Look for Policies and Carriers Online
The first way to find workers' comp coverage is to look online. Online research can help you compare policies, costs, and coverage. Some of the most popular insurance companies that offer workers' comp insurance include The Hartford, State Farm, and Liberty Mutual.

Ideally, you'll want to find an insurer with experience in the event production industry. Many carriers have experience providing workers' comp insurance to traditional employers, but finding an insurer that caters to event production companies and their specific needs is another matter.

The downside of this option is that you'll need to spend your time and energy searching for carriers and comparing their workers' comp policies. It's essential to find a policy that is suited to your particular needs and that may take a while and leave you with less time to create memorable events for your clients.
You could also retain an insurance broker to help you find a policy, but you can be sure there will be a markup on that policy versus finding the coverage yourself.
Outsource the Process
The other option is to outsource the process of researching and obtaining workers' comp insurance for your AV freelancers by partnering with a crew management solution like Mertzcrew.

At Mertzcrew, we have made it our mission to help production companies streamline events by providing a crew management solution that eliminates admin work, boosts efficiency, and streamlines operations.

We can help you collect and track Certificates of Insurance from your freelance workers, so you can access them at any time to provide proof of coverage. And, if you contract freelancers who don't have their own policies through Mertzcrew, you can rest easy knowing they are covered by our policies.
Take the Stress Out of Workers' Comp Insurance with Mertzcrew
Managing workers' comp insurance for your AV freelancers shouldn't be time-consuming or stressful. While we recommend making workers' comp a requirement for your contractors, we're also committed to helping you obtain and manage insurance when you contract freelancers via Mertzcrew, so you can focus on creating memorable and effective events for your clients.

Do you need a hand obtaining and managing workers' comp insurance for your AV freelancers? Mertzcrew is here to help! Click here to learn more about our unique crew management software and get a demo today.
Topics: Workers Comp Insurance