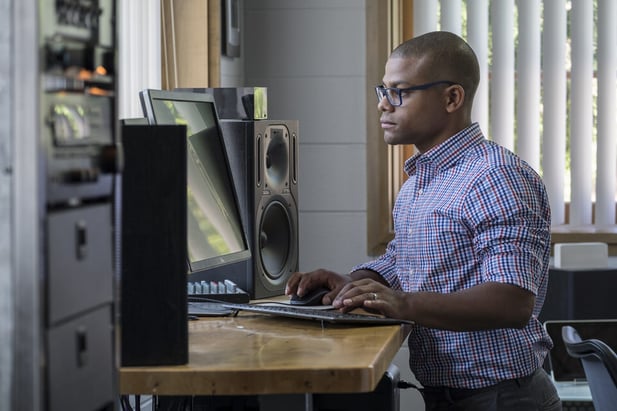 Many industries utilize field service softwares as a solution for managing mobile workforces and widespread resources. There are many benefits to doing so, from improving communication and tracking to organizing your internal management processes into one streamlined system.
Many of these field service software benefits are being realized in industries with mobile workforces and, if the right one is chosen, these tools can take the stress off of an AV crew scheduler's plate too. Here are 7 reasons your AV scheduler could use a field service software, along with some tips on how to choose the most appropriate one.
AV crews are on the move
AV crew members are constantly on the move, both on and off the project site. This mobility often contributes to communication and tracking barriers. Traditional crew management strategies do little to improve these barriers -- AV teams still rely heavily on phone calls, text messages, and emails to spread project related messages. These messages often go unnoticed, unread and unheard until it's too late.
Tracking presents similar barriers. Without a singular system to track services completed and project updates, it can be difficult for AV schedulers to check on project statuses, compare time scheduled with time worked, and make sure the project is on time and on budget. The introduction of a technology solution, like a field service software, can close both of these gaps by connecting internal AV crew management teams with their mobile workforces. Here's how:
Accessible schedules & project details -- It takes a lot of communication and coordination to get your crew members to the project when and where they're needed. Questions are often common and frequently redundant, putting extra workload on an AV scheduler as they must field them to keep crew members in-the-loop. With the introduction of a field service software, crew members can access daily schedules and overall project details from their fingertips. Because these assets are hosted online, crew members can access them via their mobile devices, laptops, or from anywhere with an internet connection in order to get the answers they need.
Real-time schedule updates available -- Schedule changes are known for happening at the last possible (aka worst) moment. This often makes notifying your crew members incredibly challenging, yet incredibly imperative. The last thing you need is to be short on crew members, or paying for non-scheduled hours because of an unseen schedule update.
Daily hours updates and tracking -- Because crew members (especially contractors) are always on the move, it can be challenging to get them to update their time and expense reports consistently. By moving this process online, crew members can update their time and expenses daily from within the software so that you can instantly review them and make daily approvals, rather than waiting until the project's end to flag down crew members for the information you need to bill your clients and manage payouts.
Technology means greater efficiency
The internet and cloud based systems are improving workplace efficiency across the board. Field service and similar softwares provide managing teams with the ability to streamline and access information from anywhere at any time. Here are just a few ways choosing an appropriate software can save your AV scheduler time and frustration:
Consolidate your workforce tools -- Managing your AV crews in separate scheduling platforms can lead to scheduling errors -- without overarching schedule visibility, catching scheduling mistakes can be tough. By utilizing the appropriate software, you can manage internal crew members and contractors schedules all in one place so that you can get a clear overview.
Streamline your PM resources -- Traditional crew coordination tools provide little in the way of efficiency. They're often dispersed over spreadsheets, emails, phone calls, text messages and paperwork, leading to a lot of unnecessary hopping around. By introducing the right software, your AV scheduler can manage schedules, communications, project tracking, hours and expenses tracking, reports, and all of the crew coordination assets they need from one online system.

How to Choose the Right Field Service Software
Some field service softwares have a lot of bells and whistles that work incredibly well for mobile workforces in other industries, but are out of place in the AV industry. We track hours-worked differently, have varying roles and responsibilities on the same project, and more! AV schedulers and teams will get the best and most efficient use out of a field service software designed specifically for managing AV crews.
Mertzcrew's all-in-one online AV crew management system is the perfect field service software for AV schedulers to better connect with crew members and make crew coordination more efficient. With Mertzcrew's solution, AV schedulers can:
Schedule entire crews in one online location

Set up projects quickly with online project detail and schedule templates

Invite AV team members to use the system for collaboration (at no extra cost)

Communicate directly with crew members

Eliminate the scramble of last minute schedule updates with real-time notifications

And more!

Request a free live demo to see how Mertzcrew's AV crew management solution can help your AV scheduler save time, improve communications, and achieve greater efficiency. Click here to sign up for your free demo today!
Topics: AV Teams, Crew Management & Scheduling, Working with Contractors