Independent AV contractors are highly valued contributors to the AV industry. Working with contractors on AV projects allows you to access a wider pool of audio-visual skills sets and experience levels, expand your team as necessary, and meet project deadlines when demand is high. Despite all of the benefits they provide to AV schedulers in charge of meeting project needs, securing contractors can also require more upfront work on your part.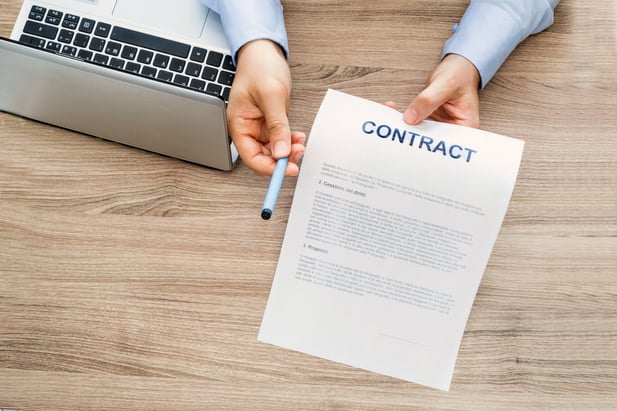 Anytime contractors are involved, contracts need to be drafted and agreed upon in order to clearly define payment terms and conditions, work expectations, and more. Without a signed contract in hand in time for your project's start date, both you and the contractors may find yourselves in a poor position to see the project through to a successful completion.
Know how much you can take on
Every AV project is different, and some require utilizing more contractors than others. The key to managing independent contractor contracts is knowing how many contractors you can take on. Managing contracts can take time away from the rest of your AV crewing tasks, including scheduling, project planning, and more. Before you leap into developing and managing contracts for every independent contractor on your crew, make sure you're aware of the time and due diligence it will require. There's a big difference in time commitment between contracting two AV freelancers, versus contracting 20. Know your limits and plan accordingly.
Outsource contract management
As the person in charge of AV crewing, coordination, and management, you have enough things on your plate. Updating and managing contracts is a time and detail intensive process that can take away from your day to day tasks -- not to mention the legal implications of getting it wrong. This is especially true when you're coordinating contracts for multiple AV contractors. Rather than let this tedious task take time away from the responsibilities you're already managing, save yourself the time and legal headaches of contract management by outsourcing this task to a third-party provider. As long as you choose a specialized company who is well versed in managing contracts, specifically for AV freelancers, outsourcing contract management will allow you to focus on your projects, while reducing the risk of overlooking important details.

If you want to take this task off of your plate, take a look at the AV Contractor system provided by MertzCrew. This system takes over the complicated tasks of coordinating contracts, insurance, and payments for the AV contractors on your projects. Learn more about how they take the administrative burden off your plate and ensure the contract details are properly managed.
Agree on payment terms and conditions beforehand
Help both yourself and the contractors by negotiating and agreeing to payment terms and conditions before you put pen on paper. Ironing out these details in advance will make it easier for you to draft accurate contracts in less time. You can speed up your negotiations by coordinating them in an all-in-one AV crew management tool that makes the negotiation process transparent and simple. MertzCrew allows you to clearly communicate and agree upon rates with the contractors and documents the agreement for all parties in order to eliminate miscommunications.
Consult with a legal team
Contracts are important for protecting your company and the rights of your contractors, so there is no room for errors. If you choose to develop and manage these contracts yourself, make sure that you consult with your legal department or an outside legal team that you trust. This due diligence will give you the peace of mind of professional expertise and legal formality. MertzCrew works with top legal teams to ensure the contracts reflect the ever-changing landscape of rules and regulations.
Ready to get contracting? Sign up for a free demo to see how MertzCrew Contractor can manage contracts, insurance and payments for you.
Topics: AV Teams, Working with Contractors