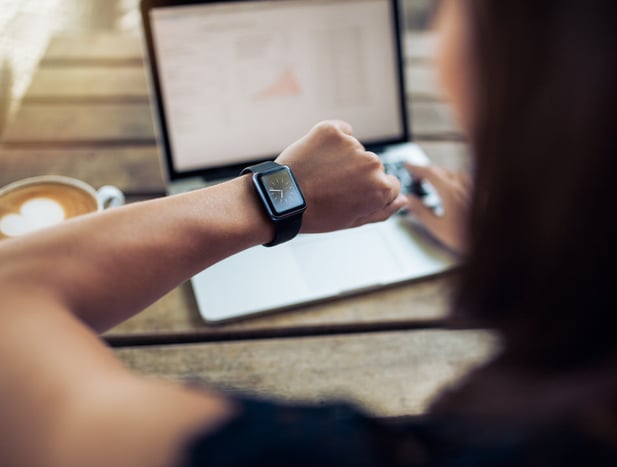 Managing and verifying invoices and payouts on AV projects has a tendency to get overwhelming. This is especially true when your crew is made up of both independent contractors and internal employees and you're tasked at tracking both. Regardless of inefficiencies manual time tracking presents, AV schedulers are expected to collect and manage time sheets for both freelancers and employees quickly, efficiently, and accurately.
In order to meet these expectations, AV schedulers should consider upgrading outdated processes and introducing an AV time tracking software that works on the crew-facing and scheduler-facing end to streamline reporting, invoicing, and billing. While adapting to a new tool can sound like a chore, the benefit you'll get from it in the long-run is priceless.
Here are 6 benefits of AV employee time tracking software that will make you rethink your current time tracking system.
Streamlined tracking processes improve visibility
When managing AV crews made up of freelancers and internal employees, time tracking can get messy. Freelancers often have their own way of tracking how much time they spend on projects in order to create their invoices, while employees follow the time tracking process utilized within your organization. This separation of processes creates visibility issues for schedulers as they keep track of project hours. By utilizing a time tracking software built specifically for AV crews, you can integrate time tracking processes for both freelancers and internal employees, into one system, allowing you to review time reports easily and adjust schedules as needed.
Time tracking converts into real-time invoices
Working with AV freelancers is a great way to expand your pool of qualified crew members, but as freelancers work independently they often have their own way of doing things -- and it's not always fast. Waiting for freelancers to record their hours, add up those hours into invoices, and send their invoices to you can be a drawn out process that slows your ability to manage your crew and close out projects. Rather than rely on freelancers to calculate and send you invoices on their own, an employee time tracking software that converts hours into invoices can be introduced to automate the process.

Easily compare invoices against time reports to improve accuracy
It's always a headache when freelancers wait until the last minute to fill out their time reports. Not only does this create stress on you as you near the project's completion, it also opens the door for guessing which contributes to both under and overreported hours presented on invoices. When freelancers are recording hours on their own and are inconsistent in doing so, mistakes are bound to be made. Time tracking softwares allow your employees and freelancers to quickly and easily record hours and notes from their fingertips -- reducing error, improving the consistency of updates, improving the accuracy of invoices, and expediting reporting.
In-app communications expedite approvals
When hours are called into question or data is missing, it's impossible to move forward with payouts. Often, crew members will leave dates and times blank accidentally, or even misrecord their hours worked. A dual-sided platform with in-app communications, like that provided by Mertzcrew, allows schedulers to quickly leave a note to crew members that they need to update or correct their time sheets before payment can be delivered.
Improves employee/freelancer relationship management
Arguing with crew members over time worked versus amount paid is a situation no AV scheduler likes to be in the middle of. Yet, these conflicts are bound to arise when time sheets, invoices, communications and billing are all being managed in separate systems (both on the scheduler's end and the freelancer's end) and reveal inconsistencies. By moving to an online time tracking and invoicing system, miscommunications about time worked and payment owed can be greatly reduced as both parties will gain access to highly visual timesheets and communication timelines. These features make miscommunications and errors easier to identify so they can be resolved quickly before relationships are damaged or conflicts spiral.
Saves you time in the long-run
While learning a new system and integrating your crew into it can seem like a long and intimidating road, it's actually a huge time saver. A time tracking software designed specifically for AV crews, like that provided by Mertzcrew, can provide you with better insights and communication abilities that will speed up your crew management tasks (and your crew member's reporting tasks) in the long run. This type of system can be quickly learned, and once it is, the time-saving benefits only increase.

Ready to spend less time managing your AV projects and tracking down crew members for answers to incomplete hours reports? Take a tour of Mertzcrew's all-in-one AV crew management system and see how this easy to use platform can save you time, money and improve your crew management processes.
Topics: AV Teams, Crew Management & Scheduling