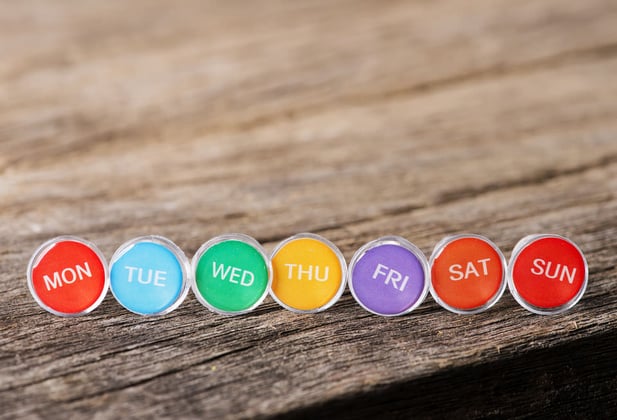 Coordinating a group of people to do anything can be hectic -- especially in the world of AV. Between communications, multiple databases, availability, and evolving project requirements, simply scheduling your crew for a project can cost you a substantial amount of time and money. Fortunately, the addition of a crew scheduling and management software can alleviate many of these scheduling tasks and help you manage your AV crew with greater ease. When introducing a crew scheduling software designed specifically for AV projects, there are a few stand-out features you should expect to find that will instantly take the stress out of crew coordination and scheduling.
Intuitive Scheduler Builder
Arguably, the most important feature of a crew scheduling and management software is the scheduling feature. When coordinating AV crews without a software solution in place, you're forced to move back and forth between multiple spreadsheets and contacts lists in order to plan schedules for the crew. And if you're working with a mix of freelancers and employees, you may even be searching through availability and contact details from multiple lists or databases.
With an intuitive schedule building feature, you'll be able to easily create schedules online, schedule each crew type simultaneously, and publish the schedule so that all of your crew members can be notified at once. Just plug in the dates & call times, break details, and crew members involved on the project and you can check "schedule entire AV crew" off of your neverending to-do list.

Unlimited Users
Your scheduling solution should allow you to minimize stress wherever possible, yet so many scheduling softwares limit your team's ability to collaborate on tasks -- or charge you a premium in order to do so. A quality scheduling solution should give you the ability to grant system access to an unlimited number of users, or create accounts for an unlimited number of users on your team. This will allow everyone on your team to stay in-the-loop on projects, and will give everyone with an account the ability to schedule and manage crews too so your team can share the workload as needed.
This feature can be hard (or pricey) to come by, but it's vital to team environments. If you're looking for an AV crew scheduling software that offers unlimited user creation, MertzCrew builds unlimited users into all of its plans. Click here for a free software demo to learn more about this all-in-one crew management system.
Real-time Notifications
As project demands change, a client requests an adjusted timeline, or any other last minute change occurs, you may find yourself scrambling to implement the adjustments and notify those involved. With the addition of an advanced scheduling software, you'll be able to adjust your project details at will, sending real-time updates to your crew members so that they're constantly in-the-loop on changing project demands.
Having the ability to instantly notify your entire crew at once as changes occur is a simple, yet powerful solution that will take a lot of busy work off of your plate.
Scheduling Software Features Make Projects Less Stressful
While software solutions are designed to make tasks easier, introducing any new tool into your process can raise skepticism. Will the tool be easy to learn? Will it require extensive setup? Will the tool's ROI be quickly realized?
By choosing an intuitive software designed specifically for the AV industry, you'll be able to introduce a scheduling solution that will fit seamlessly into your current process and improve the process you already have -- reducing the time it takes you to manage crews.
MertzCrew is a leading AV crew management software that gives AV companies complete control over the AV crewing process and its communications, while providing real-time analytics and accurate business insights. This all-in-one solution groups all of your crew management assets into one, easy to use platform allowing you to manage the entire crew management software in one place, from start to finish.
Better yet, the only set up the software requires is adding your crew member database into the system -- allowing you to begin utilizing the benefits of tool immediately so you can capture your ROI quickly.
The MertzCrew team can walk you through how to get the most out of this complete crew management tool in a matter of minutes. Click here to schedule a free software demo of MertzCrew's all-in-one AV crew management system.
Spend less time switching back and forth between project management assets, and see how much time and money you'll save by introducing a singular, streamlined solution for all of your crew scheduling and management needs.
Topics: AV Teams, Crew Management & Scheduling