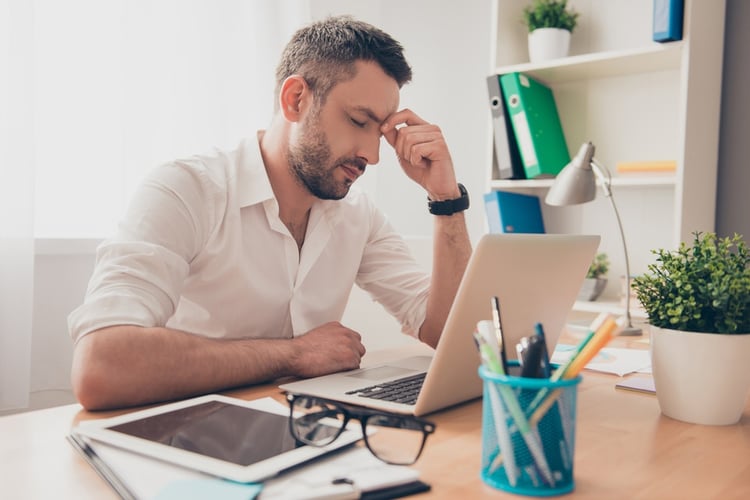 It's easy to cling to an AV project planning process that has been with your organization since its start -- your employees are used to it and it works (for the most part) -- but it's important to consider whether your process is still serving your company as well as it could.
If your AV project planning process is inconsistent, lacking in time-efficiency, difficult to scale, difficult to teach, or all of the above, it may be time for a change. While any organizational change can be difficult for companies and employees to swallow, change is often necessary to build a stronger process that allows your company to succeed and thrive.

As you consider making improvements to your AV project planning process, you're likely wondering what it will take to implement, when is the best time to implement, how to navigate the transition smoothly and how to pick the perfect tool to make the transition seamless and give you the most benefits.
To guide you through your decision-making process, Wallace Johnson, 15 year veteran in the AV industry, provides the AV project planning process solutions that he's found to work for AV companies debating the best time and way to make lasting improvements:

1. Online tools have helped businesses across a wide range of industries become more efficient. What do you think holds AV teams back from ditching email and spreadsheets and moving into an online tool for AV project and crew planning?
First is cost. Office 365 bears what can be viewed as a minimal cost to employers and if it becomes too pricey there is the even lower cost of using Google's suite of tools. To transition out of these types of tools you have to invest in the right cloud-based solution, which would be an added expense.
Second is research. Many organizations are extremely busy throughout the year so finding and implementing new systems takes time and planning that can be difficult to fit in while trying not to disrupt your current workflow. Many are hesitant to do this and trying to find the right time can be challenging.
2. Do you think a lot of AV companies have held off on jumping on the online tool bandwagon because coordinating AV projects is such a unique process?
Most companies have held off because the tools that have been created weren't designed for the AV industry -- up until now. Many of the solutions that are out there fit better for work shifts not projects.
3. Who typically has the most reservations against introducing an online AV project planning tool? Upper management? The employees who use it daily?
A mix of both. Operation leaders listen to the people who have to do the work. So if the employees feel they can be effective at their jobs using these tools then management would be foolish to sign-off on it. The concerns are typically about making the right decision with the right solution and also mapping out an onboarding plan that does not disrupt their ability to do business.
4. How can AV teams convince upper management that a online tool is worth trying?
The best things teams can do is outline what their ideal process would be if they created a system and also do their own research. Google is the most powerful tool in the universe and every team member has access to it. If they research and outline a plan with the pros and cons of that plan, upper management will be very impressed and take it under strong consideration. If you have access to a free trial of a solution, be sure to sign-up for a demo first before signing up for your trial, so you can get an in-depth look and understand the full capabilities of the platform before you dive in.
5. Is there any kind of "final straw" moment that makes an AV company say "okay, it's time to try something new"?
Any process or system that is holding back a company's ability to grow, takes up valuable time or interferes with the ability to deliver an exceptional customer experience will generally push a change in that process or system.
6. What are some signs that your current AV project planning process isn't working for you anymore?
At the point when your process becomes inconsistent, inefficient, hard to train and difficult to scale it's probably not working anymore.
7. What do you think of the timing of introducing a modernized tool during an AV company's busy season? Does this tend to add more stress, or alleviate the brunt of the busy work so the team has more time on their hands?
The busy season brings enough stress alone that making changes during it can really put some of your employees on edge which is not a good idea -- however if necessary it could be done.
The critical elements with change are how good are the training resources (training tools, documents, videos) your employees will be given, how well does the support team introducing this new tool to users understand their existing process to relate to the degree of change happening and how well planned out is the overall onboarding experience. If those three things aren't very well done, then regardless of time frame, the transition will not go well.
8. When the decision is made to try out an online tool, how much time should AV operations plan to set aside for learning and adjusting?
The difference between days, weeks and months of testing a product really depends on the plan that has been mapped out for the testers who are going into demo mode. If they don't go in with a plan, have an outline of what features they need to have and are looking for, and understand what features the platform offers and what scenarios they need to test, then the beta process can go on for months and just be uneffective.
9. How long does it take to transition into everyone using it? Does any resistance come from contractors?
There is no set timetable for timelines -- some who are comfortable with new software tools adapt right away. Others are more resistant to change and will look for loopholes and negatives in the process before they come around. If the right onboarding plan and resources are available, change typically happens smoother and faster.
Resistance comes from contractors at times because this is a change for them too and some don't like to conform to someone else's way of doing things. You have to make sure you highlight the benefits of why this change will help the individual to get buy in.
10. As more AV companies adopt online tools for project and crew management, do you think the ones that don't will be left behind?
I don't think anyone will be left behind but they definitely won't be as efficient and agile as the other companies who have adopted those tools.
11. What should AV companies know about AV project planning tools before selecting one to implement?
Three things.
Plan - Before the event, start looking for tools and develop an understanding of what key benefits and features must be met in order to transition to a solution. I usually build a checklist of benefits I need. This helps me quickly disqualify products that have nice features but in the end may not meet the overall benefits of what I need to accomplish.
Communicate - Next is to make sure you are communicating to your team in advance that you are researching new tools and are open for suggestions. Employees like to hear that you're advancing technology in the workplace and this gives them a chance to voice their feedback on the existing process and tools that they may find can help.
Research - Has the provider worked with similar types and sizes of customers? How well do they understand your industry and your processes? Can they collaborate with you on an onboarding plan and what support is available post-implementation? Do they understand what success should look like for you? These are some key questions companies should know the answer to before selecting a product.
Topics: AV Teams, AV Industry Pro Sessions