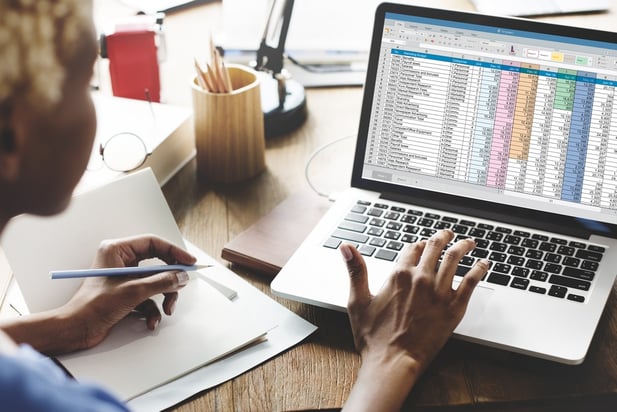 The dreaded AV scheduling spreadsheet. It's an AV scheduler best friend and their worst enemy. It contains all of the information you need to keep your project on track, on budget, and on time, helping you manage all of your crew management processes. But, as handy a tool as it is, it's also outdated. While your Excel scheduling spreadsheet may keep your AV project on track, it also may stagger behind industry trends and technological advancements in the business world that could improve your scheduling process and bring you even better insights.
Nearly every industry has at least one kind of online or mobile based tool for project management and scheduling. These tools help businesses of all kinds to stay on track, gain immediate project insights, instant updates, view timelines, and more -- thus alleviating the manual tasks and disjointed nature of traditional spreadsheets and templates.
But while the rest of the business world has implemented the use of online PM and scheduling tools, the AV industry has been slow to adopt them and even slower to develop tools designed specifically for the AV industry and AV crew management. But the emergence of a new AV scheduling tool is changing all of that, and could even be the reason you decide to ditch your Excel scheduling template for good.
The downfalls of scheduling AV crews in Excel
AV schedulers have long looked to Excel, and other spreadsheet platforms, as their go-to scheduling tool. However, managing contact lists and crew schedules in a spreadsheet tool can lead to scheduling oversights and errors for a few reasons:
Your project is fluid, with frequently changing dates and times, and you're forced to manually update it every time a crew member or scheduling change occurs

You don't get total hours submitted from your crew members until the project ends, resulting in unexpected overtime

You then need to communicate each of these changes to the crew members involved

You're under a time crunch to get freelancers under contract and insured

You're linking spreadsheet data to other systems, causing formula and format errors to come into play.

Tracking changes or multiple versions of a spreadsheet can be a challenge when being managed by multiple people.
Read on to see how an online AV crew management tool can work as a replacement to your Excel scheduling tool, and streamline your project management tasks, changing the way you manage your AV crews and the projects they work on (for the better!).
Centralize multiple crew schedules and projects
Juggling multiple AV projects, with multiple crews, all at once can be challenging -- especially when you're managing them all within different scheduling and project management spreadsheets . How many times have you clicked on the wrong crew list when you wanted to find the appropriate crew member for the job, or had trouble lining up your crew because of back and forth availability changes?It happens to all of us, and when it does, it's easy to forget what you're doing, get sidetracked, or even make a scheduling error.
The solution to the chaos is to centralize. When you bring all of your crew member data, scheduling plans, and crew communication into one, easy to use system, you'll be able to complete your crew member schedules quickly and easily, without getting lost in a sea of contact information, availability notes, files, and folders.

Breeze through project setup and crew member onboarding
Keeping with the "traditional" project management system, when a new AV project lands on your desk your AV project management spreadsheet is one of the first places you start. In order to get to work, your first task is finding the applicable project template (whether it's a live event, tour, or integration) and inputting all of your project details. Once this is done, you draft up an email with all the project details to send to your crew members.
Bottomline: you're moving through multiple steps of searching, copying, and pasting just to get your project laid out and shared with the crew members involved.
In order to make setup more efficient and time friendly, an online AV crew management system allows you to do all of this at once. Input empty fields with all of the project details you need, categorize the project type, and publish the project to broadcast these details to all of your crew members at once.

Get faster insights and updates
Between emails, invoices, timesheets, contracts, spreadsheets, and to-do lists, you have to jump through a variety of hoops just to keep your project and crew schedules up to date.
It's not a streamlined process and it can feel like a huge hassle just to do something as simple as comparing actual labor services to what was budgeted, or verifying payment.
An AV crew management system unites all of your project details, invoices, crew schedules, messages, negotiation agreements, and more in one place so that they're always easy to locate in seconds so that you can verify what's needed and keep your projects moving.
And since the system is designed for use by AV crew members and companies, it allows crew members to enter project status and time tracking reports on their end, so AV companies can easily get instant insights into a project's status, timelines and budgets.
We've all been waiting for a way to improve our crew scheduling and management processes and now that solution is finally here. Take a tour of the all-in-one AV crew management system that's allowing AV crew schedulers to save time and money while ditching their Excel scheduling tools for good. As hard as they've worked for us in the past, we think it's time they took a little vacation.
Topics: AV Teams, Crew Management & Scheduling