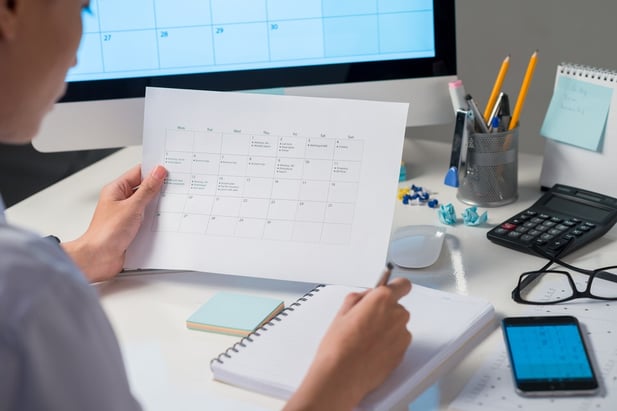 Live events are make or break. Your AV team and crew gets one chance to either make it all go right the first time or miss the mark. Adding to the challenge, live events can be unpredictable with deadlines and scopes that are constantly moving. While these obstacles can be hard to overcome, you can defeat them and set your live event up for success with careful AV crew scheduling, planning, management, and preparation.
From last minute scheduling changes, to crew dynamics planning, and more, here are the AV crew scheduling tips you need to set your live event up for success, and how an all-in-one AV crew management system may be the answer to all of your live event scheduling obstacles.
Reduce paperwork, save time
Between sorting through stacks of paperwork and contact lists, comparing crew skills with project scope, and tracking down contact information, selecting the right crew members for your live event is a lengthy process requiring time that you may not have. However, choosing and getting in touch with the appropriate crew members doesn't have to be a lengthy or disorganized process. Instead, it can be done with the click of a button by utilizing an AV crew management system like Mertzcrew. Simply filter by the skills or other criteria you need your crew members to have, and instantly pull up the crew members you've worked with in the past that are relevant to your current live event project.
Streamline crew dynamics planning
Finalizing your AV crew is a process that involves multiple internal members of your AV team. Once your crew scheduler selects their crew members, it's typical to hand that list off to your sales team or project manager for approval and discussion before final crew decisions are made. This back and forth process can become disorganized between emailing, swapping out crew members, discussing crew members additions, and more. However, by introducing an integrated process that will help your AV team streamline crew dynamics planning into one online system, you can work your way through this step faster than ever before.
An AV crew management system with unlimited users is a vital and valuable tool in your crew dynamics planning process. By providing unlimited access to the relevant users within your organization, you can share schedules and notes in one streamlined platform that will facilitate faster, easier decision making regarding which AV crew members will be the best fit for your project.
Eliminate human error
When it comes to AV crew management and scheduling for a live event, typically anything that can go wrong will go wrong. This is especially true when you're managing and scheduling internal crew members and contractors in separate systems, without a clear overview of your crew as a whole.
With an all-in-one AV crew management system that allows you to schedule your entire crew in one place, you'll get an immediate, accurate overview of your entire live event AV crew and schedules. These insights will allow you to more accurately predict labor costs in comparison to actual project scopes and budgets, and will help you catch scheduling errors before they impact your event.
Systemize crew updates
Last minute schedule changes are a frequent occurrence in the live event world -- but that doesn't make them any less painful to deal with. Updating crew members about scheduling changes can be a frenzy of phone calls, voicemails, and emails. Yet even after all of the work you put in trying to update everyone involved, there are still those crew members who don't get the message in time and arrive to the project when they're not needed.
While these scheduling changes are impossible to predict, they can be planned for in order to reduce the stress they have on your AV team and live event crew. With the introduction of an all-in-one AV crew management system, you can make schedule changes and update project detail from one online system that sends real-time notifications to all crew members on the project. Mertzcrew's all-in-one AV crew management system not only allows for this, but makes these changes accessible from mobile devices so that your crews can access updates at their fingertips and never miss another scheduling change.

Log history details
The changing nature of live events can make them difficult to manage, especially when multiple members of your AV team are involved in scheduling and coordinating your AV crew. Sometimes you simply need to find out when or why a scheduling change was made, or who made it in order to verify the proper crew is on-hand. With detailed history timelines and rate negotiations logs, Mertzcrew's all-in-one AV crew management tool makes managing live event crews simple. History logs can be used to review when a scheduling change was made, who made it, and any notes they've left explaining the change. Additionally, Mertzcrew keeps a timeline of rate negotiations between you and your AV contractors so that you have a paper trail of the rates you've both agreed upon.
Use an all-in-one AV crew management system
When scheduling and coordinating AV crews for live events, organization is key. Keep project details and schedules at your crew's fingertips, rather than buried within lengthy email chains, and stay prepared for any last minute changes thrown your way by utilizing an all-in-one AV crew management system like Mertzcrew. As project details and scope of work change, you and your AV team can maintain total control of the AV crew management and scheduling process with the addition of this easy to use tool.
Learn more about how an all-in-one AV crew management system can help you manage your AV crews before, during and after a live event by signing up to take a free tour of Mertzcrew's all-in-one AV crew management system. We'll walk you through how to use it and how to maximize it's benefits for your crew management needs.
Topics: AV Teams, Crew Management & Scheduling