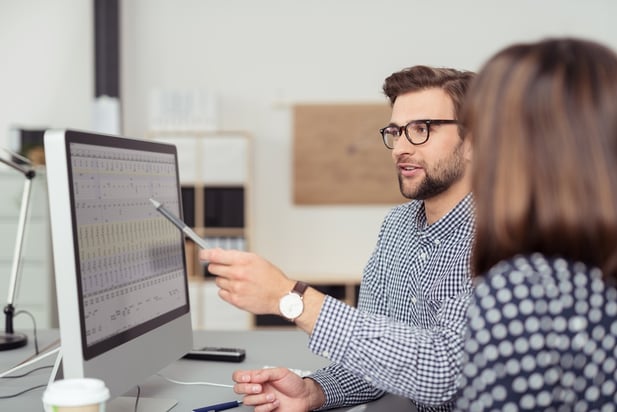 Occasionally, before you even realize it, AV labor costs can spin out of control. By the time this happens, it's too late to fix the problem. In order to stay on-budget, AV schedulers and planners need to take proactive measures when managing per-project labor costs. While this is often easier said than done, introducing an online platform that tracks labor costs is one of the easiest ways to manage budgets accurately, effectively, and without increasing your workload. Below are just a few of the ways an AV crew management tool can help you manage AV labor costs on any project, before costs get out of hand.
Streamline labor reporting
AV project demands are known to fluctuate as client needs and timelines change. As they do, labor often needs to be adjusted accordingly -- adding additional crew members to ensure the successful installation of more complex equipment, to meet last-minute timeline changes, and more. These scheduling adjustments can easily lead into overtime fees and additional billable hours from added crew members -- all of which can cause labor costs to skyrocket beyond the original target budget.
These budget overages can be difficult to detect when labor hours and expenses are tracked in multiple, separate systems -- a frequent dilemma when working with contractors as well as your full-timers. Introducing an all-in-one labor management and tracking system like Mertzcrew will allow you to view each project's crew costs as a whole (for contractors and in-house crew), so you're always aware of your project's total crew costs.

Get daily labor updates
Rising labor costs can be difficult to project when daily hours reports are unavailable -- as is often the case when contractors are independently responsible for compiling and sending in their invoices. It's not uncommon to be invoiced by contractors weeks, or even months after a project has come to a close, which makes managing labor costs nearly impossible.
This makes a real-time, time tracking tool a highly valuable resource for monitoring AV labor costs. By using labor management software like Mertzcrew, crew members can submit their services online, each day of the project. Crew members can update their timesheets on-site, from their mobile devices, making daily hours updates simple and convenient. These updates then appear online in real-time for the crew scheduler to access, and either approve or request more information. By incorporating software that tracks crew members' time daily, planners can get instant, daily insights that they wouldn't have otherwise had access to, in order to help them project whether or not labor costs will meet or exceed the project's end-budget.
Monitor ancillary expenses
Last minute, or severely late, timesheet reports aren't the only "surprise" labor expense AV schedulers and planners run into when managing AV labor costs. Receipts and requests for reimbursements are often submitted late, or even months after a project has been completed and closed out. These costs can add up and create labor cost overages, and can even complicate repayments when a client has already paid final project invoices.
By introducing an comprehensive tool that allows crew members to input their ancillary expenses, upload receipts, and leave notes, AV planners and schedulers can collect crew reimbursement information throughout the project as daily hours are being reported. This feature gives planners the ability to approve, decline, or discuss reimbursements with contractors so that they can manage these costs immediately, without being blindsided later.
Keep real-time updates at your fingertips
As online tools become more available, disjointed spreadsheets are no way to manage labor costs and project expenses. They cause planners to spend unnecessary time inputting and calculating, instead of acting based off of the data that's been collected. AV labor management software, like Mertzcrew, delivers actionable business insights, available from anywhere, at any time, allowing planners to stay on top of expenses as they accumulate.
Mertzcrew's all-in-one crew management system aggregates all crew expenses, including timesheets and reimbursements, providing an instant overview of where labor costs stand as a whole. These reports can be viewed anytime or anywhere with an internet connection, keeping you updated at all times.
Key takeaways
Managing AV labor costs is an important job, but when you're left to manually calculate crew costs as a whole, making the adjustments that will keep labor costs on budget becomes nearly impossible. Without ongoing insights, unforeseen costs can quickly accumulate, putting the project past its intended budget. Planners can get ahead of the game by investing in an AV labor management and tracking software that delivers real-time labor reporting, allowing them to become aware of potential budget overages in advance.

Mertzcrew gives planners just that. Mertzcrew's all-in-one crew management system makes planners' jobs easier by allowing them to see where costs are heading in real-time as projects progress, and helps AV crew members submit their time reports and expenses instantly and conveniently so they can get paid faster. Click here to schedule a free live demo to learn how this all-in-one system can help you better manage AV labor costs.
Topics: AV Teams, Workforce Intelligence