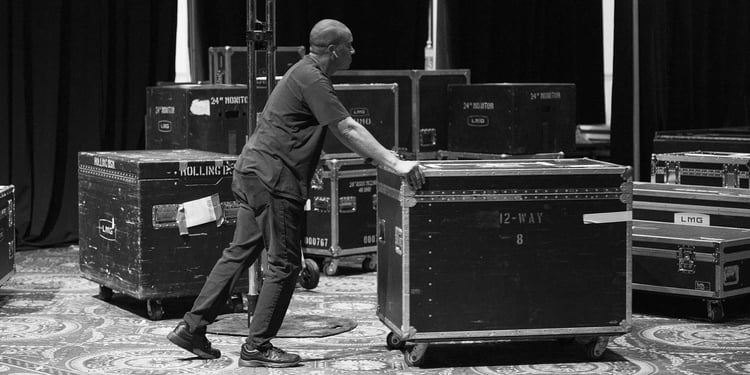 Event production always comes with some risk. When you're planning something with a lot of moving parts, anything that goes wrong can impact other elements of your event and it's essential to protect yourself in any way you can.

At Mertzcrew, we work with event production companies every day and as a result, we understand the risks that come with the job. We have created software that makes it as easy as possible to mitigate your risks by obtaining and tracking production insurance coverage for the AV freelancers you hire. Here's what you need to know, including details about different types of production insurance and how to obtain the coverage you need.
Types of Event Production Insurance
Event production insurance may encompass more than one type of coverage. Here are some of the most common types.
General Liability Insurance
General liability insurance covers any responsibility you and the freelancers you hire for anything that goes wrong during the planning or production of an event. Its role is to shield you, your client, and the event location from legal liability, including protection against accidental injuries or property damage.

For example, if a freelancer placed a wire in such a way that an event location employee or an event attendee tripped and fell, general liability insurance would protect you from a potential lawsuit.

Your general liability insurance may provide protection for additional problems, including advertising injury, copyright infringement, and reputational harm. You should not undertake any event production without general liability insurance in place.
Equipment Insurance
AV freelancers may use equipment that you provide as well as equipment that they own or lease. Since filmmaking and other equipment can be expensive, it's a good idea to have equipment insurance to cover expenses in the event that equipment is damaged, destroyed, or stolen.

Carrying equipment insurance is a must for freelancers and it can help to protect you, too. While most AV freelancers are very careful with their equipment, there is always a risk that an accident or mistake can lead to physical damage or loss. If someone damages their equipment or it is left unattended and stolen, equipment insurance can pay to repair or replace it.

The good news here is that equipment insurance is typically not very expensive. The cost of a policy will depend upon the worth of the equipment being covered, and you have the option of requiring freelancers who use their own equipment to provide proof of equipment insurance before you hire them for an event.
Workers' Compensation Occupational Accident Insurance
One of the most misunderstood insurance topics in the world of event production is workers' compensation insurance and Occupational Accdient. Who pays for it? When and where is it required? Are there exceptions in certain states, internationally, or while at sea? What about some freelancers who buy their own coverage, while others are covered by the event production company's policy. What about third-party providers?

Workers' comp and Occupational accident insurance covers anybody who is contracted to work with your company, including AV freelancers. It provides liability coverage to protect you from any medical or disability expenses related to the work freelancers do. This includes work-related medical needs and on-the-job injuries. For example, if a freelancer hurts their foot while working to set up an event, then the insurance would cover injuries and lost wages.

Keep in mind that workers' comp insurance and occupational accident requirements vary from state to state. Also, some freelancers may choose to carry their own insurance policies. Choosing a crew management system like Mertzcrew can help you track proof of insurance for your approved AV freelancers.
Errors & Omissions Insurance
General liability insurance covers many of the potential liabilities that could impact your company, the freelancers you hire, your clients, and the event venue, but it doesn't cover everything. Purchasing errors & omissions insurance can help protect you against those things that aren't covered by your GL policy.

E & O insurance is a specialized form of liability protection that fills the gaps left by general liability insurance. It can protect you from claims in the event that a client sues you for negligent acts, errors, or omissions during your business activities if they involve a financial loss.

For example, errors and omissions coverage would protect you if you printed invitations with incorrect event information or if one of your freelancers wired their equipment incorrectly and caused a power outage during an event.
Other Event-Specific Insurance
We have covered the four most important types of insurance coverage that can protect you during the planning and production of events, but we would be remiss if we didn't note that you may need additional event insurance that we haven't mentioned here.

For example, if your company owns vehicles that will be used in the production of an event, you may need vehicle coverage to protect yourself. You may also want business owners' insurance. You should keep event venue insurance requirements in mind. If you're unsure about additional insurance requirements, check with your insurance partner to make sure you're covered.
How to Obtain Production Insurance
The process of obtaining production insurance may not be something you look forward to doing. The good news here is that you have multiple options, some of which take the burden off you and put it on someone else.
Where to Find Insurance Providers
You can choose from the following options to make sure you have the insurance coverage you need to protect yourself and your clients:
Require freelancers to insure themselves. The first option is one that puts the requirement of insurance coverage on the AV freelancers you contract with for the events you produce. The challenge with this option is that you will need a way to collect and track insurance coverage information to be sure that your freelancers' coverage is both sufficient and current.
Purchase insurance online to cover yourself and your AV freelancers. Your second option is to provide insurance that covers your freelancers as well as any regular employees who work for you. This is a more expensive option in terms of insurance premiums but requires less ongoing work and maintenance than tracking freelancers with individual coverage.
Work with a provider like Mertzcrew. The third option is one that provides the best of both worlds. At Mertzcrew, we've created robust crew management software and we can also provide you with necessary insurance for the AV freelancers you hire. You can use our system to track freelancers' insurance for easy hiring.

You'll need to consider the advantages of each option before you choose.
Factors to Consider When Choosing a Provider

If you opt to work with a provider to obtain the freelancer coverage you need, there are some important things to consider.

Tracking contractor insurance can be both challenging and stressful. It's essential to have a consistent process that allows you to track insurance, contact freelancers' for updated insurance policy information, and avoid potential problems with uninsured freelancers. You want a provider that can do the following things:
Save you the time and money involved in researching and buying insurance that will cover your AV freelancers.
Provide an easy and intuitive way to track contractors' insurance and make sure they have the required coverage.
Ensure freelancer compliance with insurance requirements and minimize the risk that you'll contract with a worker who isn't properly insured.
Give you peace of mind by providing consistency in the freelancer hiring process.

With Mertzcrew, you can get everything we've listed here, together with an array of tools that streamline the process of hiring and managing AV freelancers.
Risks of Not Buying Production Insurance
Here are some of the potential risks you may face if you don't have production insurance or have freelancers who aren't properly insured:
It can cut into your profits. If you don't have insurance coverage or you're underinsured, you may be on the hook financially for any professional liability related to the events you produce, including bodily injuries, property damage, and more.
You could get sued. The purpose of insurance is to protect you and shield your event liability. If you don't have production insurance that includes things like event insurance and workers' compensation, you could be the target of a lawsuit and end up paying legal expenses and damages as a result.
Event venues may not allow you to book events. Many venues have minimum insurance requirements and if you're not in compliance with them, you may find it difficult to book venues for the events you produce.
Your company could be damaged financially.

While this is the worst case scenario, we'd be remiss if we didn't mention it. Insufficient insurance coverage has the potential to impact your company finances catastrophically.
These risks illustrate why it is essential to obtain production insurance that protects your company, as well as making sure that you either buy or track insurance for the AV freelancers you hire.


Get the Production Insurance You Need with Mertzcrew
Production insurance protects you and the AV freelancers you hire. We all know that accidents and mistakes happen–and since these things are impossible to avoid, production insurance can shield you from the worst effects of the unexpected by covering you and shielding your event liability.

Is Mertzcrew the right AV freelance management system for you? We're here to help you find out. Click here to schedule a 15-minute assessment call where we'll discuss your needs, the benefits of using Mertzcrew, and how we can help you book quality AV freelancers, provide and/or track their insurance coverage, own your risk management, and execute your best AV project.
Topics: Production Insurance