Full Sail University recently hosted the Rental & Staging Road Show in Orlando, FL with industry speakers covering topics from pre-production to the integration of new technologies in show production.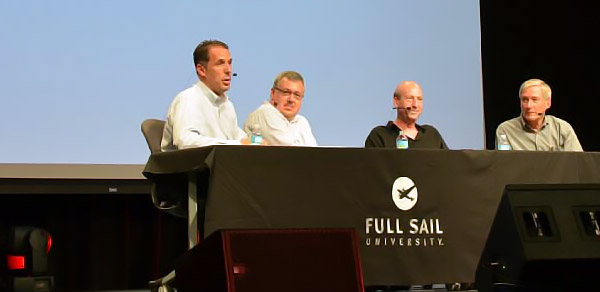 The highlight of the event was a roundtable of industry leaders entitled "Are You Ready For A New Staging Industry Landscape?" The speakers (pictured above) were: Matthew Carson (PRG), Colin Murphy (Bungalow Scenic Studios), Les Goldberg (LMG), and Tom Kervitsky (TEK Productions).
Overall, the main theme was that the industry is changing across clients, equipment, and crew. While they covered a variety of topics, the three areas that stuck out the most were innovation, the state of our industry, and advice for AV Techs.
Click below to read what they said in the roundtable.
What's New In Live Events
The entire panel agreed that video continues to have the most significant impact on live events. Innovations in LED, streaming technology, and projection mapping has moved video well beyond just a camera and a projection screen.
At the same time, video's flexibility is also creating a grey area in responsibilities between the video and lighting crews. As a result, they look for technicians that specialize in one area (video or lighting), but have shown good teamwork skills and can work with the rest of the crew to manage the overlap and fulfill the requirements of the show.
They were all in agreement that they do not look for generalist techs that claim to have expertise across video, lighting, and audio. The only exception to this is the Technical Director (TD), that requires familiarity across all departments. However, the TD also has to be comfortable being in charge and calling the show.
On a separate note, the one downside all four panelists spoke about is that a more connected world is leading to shorter development times, increased pressures from the end client, and an expectation that technology advances means more "cool stuff" at a lower price. The challenge is in balancing these expectations from the end client while keeping focused on achieving the main objective of the event.
State of Live Events
The good news is that budgets for shows have been increasing steadily since the 2008 economic downturn. The bad news is that they haven't quite returned to their pre-2008 levels. Government projects are under more scrutiny than ever and Fortune 500 companies are only now beginning to increase spending on their events. Because of this, some companies demand flexibility to commit to shows later without any impact to perfectly executed hi-tech shows.
From a design perspective, there was a lot of custom development prior to 2008, especially in scenery and stage design. Today, much of the design is "stock" with minor customizations to give it a little bit of uniqueness.
One area that has been a bright spot is concerts & touring events. Historically, concerts were used to promote sales of a new album, but digital music and iTunes in particular have revolutionized the music industry business model. Concerts & Tours are now the money makers, so music labels are investing in more extravagant productions and longer tours.
Advice for Techs
Disclaimer: Because this roundtable was held at Full Sail, much of the advice below is directed to students just getting their start in the industry. That said, it's still good advice to hear what industry leaders are thinking.
The panel was very open and honest with advice on how crews are selected for corporate projects. The key criteria really comes down to three areas: (1) Appearance & Attitude; (2) Effort; and (3) Teamwork.
I know. Not exactly shocking, but let's break these down to see why they matter so much.
Appearance & Attitude. Many corporate shows do not have back-stages or places to hide the crew. There is a near certainty that a representative of the client or an attendee will interact with the crew at some point, whether it's in rehearsals or the show itself. As a result, the crew must be presentable and professional. Techs that can manage a good interaction builds trust with the show producer and increases the likelihood that the tech will get a future project. On the other hand, a great technician with a poor attitude will likely not get selected again.
Effort. A question from the audience was "How much does education and certification matter when selecting a crew?" The panel was very honest in answering that it really doesn't and gave the following explanation. No one starts off as the Video Engineer. Get experience. Network. Take the stagehand gigs to get your foot in the door. If you have a good attitude, ethics, and work hard, it WILL be noticed. You're always being watched no matter what level you are at. They techs that work hard and perform well will get called back and given more responsibility.
[We would add that education and certification will help when the tech gets opportunities to perform in more advanced positions. But by itself, education and certification are secondary to good effort and a good reputation.]
Teamwork. This was already mentioned above, but it was stressed so much by the panel that it bears repeating. Many facets of today's productions cross technical areas and requires more interaction, especially when integrating internet-based technologies. Techs that can deal with changes on the fly, work well with other technicians, and still execute at a high level are very valuable and will be in high demand.
Closing Thoughts
The live events industry is doing well and has a healthy influx of innovation to create more exciting shows than ever. Just like everything else, there is an innovation learning curve that creates both successes and mistakes as the industry begins to adopt it.
In our experience, a combination of innovation, strong investment, and high expectations creates opportunity for motivated individuals and businesses to succeed. The techs that rise up to this challenge will be in a great position to not only reap the rewards of being in demand, but will help set the standards for how we make the shows even better.
Finally, we want to encourage you to attend any road show events that may be coming to your region. If you can't make the mecca to InfoComm in Orlando or Vegas during the summer, the road show events are well worth the trip to network and keep up on the industry.
Topics: AV Techs