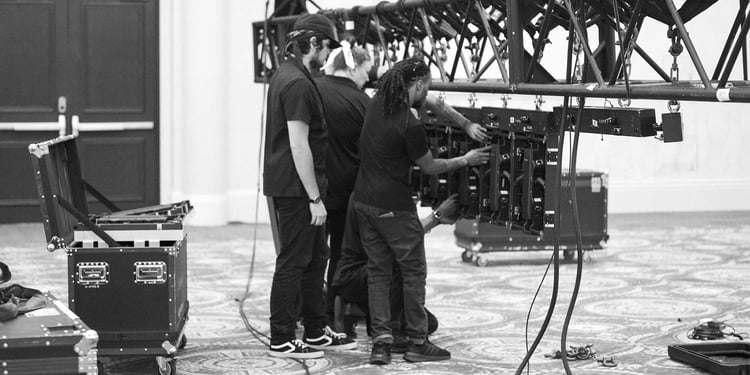 Every event you produce comes with the risk that something won't go according to plan. Even if you plan meticulously, anything from a printing mistake to a power outage could cause a problem that could leave you holding the bag for something that went wrong. What can you do to protect yourself?

At Mertzcrew, we have worked hard to create a crew management solution that helps to mitigate risks and streamline event production. One issue that we can handle for you is AV freelancer liability, which is covered by production insurance. Since we understand how essential insurance is to a smooth production, here's our guide to why production insurance is something you can't afford to overlook.
What is Production Insurance?
Production insurance is insurance that provides coverage for many of the risks associated with producing an event. It shields event production companies, their employees, and the AV freelancers they contract with from professional liability and other potential hazards.

Production insurance is driven by the venue, since insurance requirements can vary depending upon where an event is held. For example, requirements for workers' compensation coverage vary from state to state. Your event venue will communicate their production insurance requirements to you and you will need to comply if you or your end-client want to hold an event there.

One example of a strict production insurance requirement is the Jones Act, which influences the type of insurance coverage required for workers who serve on ships. This insurance coverage serves as a protection against negligence and will be required for events taking place on the water, shoreside, or other places where the ship may be operating.
Who Pays for Production Insurance?
Workers comp and Occupational accident coverage is part of production insurance and may be something that AV freelancers buy on their own, but not all freelancers have it. When that's the case, the expense of covering them falls on the event production company. Because litigation goes up the ladder, it's essential to protect yourself in case an AV freelancer sustains an injury while contracted with you.

Obtaining insurance to cover AV freelancers is something that Mertzcrew can do for you, thus eliminating some stress and streamlining event production.
What Coverage Does Production Insurance Provide?
Production insurance is a term that encompasses several types of coverage, as follows:
General liability insurance protects you against claims that your company or workers caused property damage or bodily injury.
Equipment coverage protects any equipment involved in the event, including AV equipment, from expenses related to damage, destruction, or theft.
Workers' compensation and Occupational accident coverage will provide medical payments and lost wages to your employees and AV freelancers who work with you.
Errors & omissions coverage is a form of specialized professional liability insurance that protects you if you're sued for a negligent act or professional error that causes a financial loss to the injured party.
Other coverage as required by venues, which may include things like Jones Act coverage, as noted above.
Combined, these coverages shield you from professional liability, negligence, equipment failure and theft, injuries, and more. You should check with both the venue and your insurance professional to make sure you have the coverage you need for your event.
Why AV Freelancers Need Production Insurance
Production insurance isn't optional even if you are producing an event in a venue that doesn't require it. When you're working with AV freelancers, you must be aware of the risks they face on the job, which can be significant. While production insurance is an expense that you may not want, it's far less costly than paying for legal fees and damages.
Risks to Event and Production Equipment
The AV equipment used in event production is both necessary to the success of an event and costly to repair or replace. Production insurance provides protection in the event that equipment is damaged, destroyed, or stolen, thus adding some piece of mind.
Staff Safety
Staff safety is a paramount concern for both your employees and any AV freelancers who are working the event. Some elements of rigging equipment can be quite hazardous and production insurance will protect you from professional liability.
Accidents and Injuries
Accidents and injuries can happen at any time. Production insurance includes workers' compensation and Occupational accident insurance that can pay for medical bills if someone on your crew has an accident and sustains an injury. It can also pay them lost wages, so they don't lose income as a result of being injured.
Rigging and Elevated Equipment
Once your equipment is in place, you need to think about how it may impact the safety of you, your crew, venue staff, and the event attendees. A trip over a wire or a fall from elevated equipment could end up costing you a lot if you don't have liability protection in place.
How Production Insurance Protects AV Freelancers from Risks
Now that you understand the risks to AV freelancers, let's walk through the ways that production insurance can protect AV freelancers from these risks.
It Protects You and Your AV Freelancers from Costs Related to Injuries and Lost Work
Whether your freelancers carry their own insurance or you provide it through Mertzcrew, you'll get protection in a variety of ways. First, your workers' comp or Occupational accident insurance will pay for medical expenses related to on-the-job injuries and provide your freelancers with compensation for lost wages.

Just as importantly, you'll be shielded from lawsuits related to those injuries. That means you significantly reduce your liability of paying for medical expenses and legal fees associated with workplace injuries.
It Protects You Against Professional Errors, Omissions, or Negligence
You can hire the best and most skilled AV freelancers, but doing so doesn't mean that there's no risk of making a mistake that could torpedo your event and cost your client or the venue money. For that reason, it's important to have E & O insurance to protect you.

E & O insurance is included in production insurance because things can go wrong in a variety of ways. Making mistakes is part of being human, and with E & O coverage in place, you'll protect yourself and your AV freelancers from legal liability related to those mistakes.
It Encourages Honesty About Safety Concerns
Ultimately, you want the AV freelancers you hire to be aware of safety concerns and willing to share their concerns with you. Production insurance provides a way to discuss safety and review event sites with freelancers to minimize the risk of injury.

The safety of your crew and event attendees should be paramount. Buying production insurance provides you with extensive protection from liability and gives the tech crew you hire some peace of mind that they'll be protected if they're injured on the job.
Common Misconceptions About Production Insurance
We work with event producers and production companies every day. As a result, we've heard some interesting and common misconceptions about production insurance.
Myths and Misconceptions About Production Insurance
Here are some common misunderstandings about production insurance:
Production insurance is unnecessary. We've talked to a lot of people who feel that because accidents and injuries occur rarely, production insurance is a waste of money. They think it might be less expensive to take their chances and pay for injuries as they occur instead of purchasing production insurance that they may never use. Alternatively, they may think they can get freelancers to sign a waiver that will free them from liability.
AV freelancers should be responsible to protect themselves. Another common misconception is that event production companies do not (and should not) bear any responsibility for the safety and well-being of freelancers. The benefit of hiring freelancers is that they're not employees, so why should the company that hires them be on the hook for insurance that protects them?
Production insurance is expensive.

The third misunderstanding about production insurance is that it needs to be expensive. Why add to your overhead expenses if you don't need to?

We understand the roots of these misconceptions. It's normal to want to save money and likewise, it's normal to question whether it's your responsibility to buy insurance to cover freelancers who aren't your employees.


The Truth About Production Insurance

Now, let's look at the truth about production insurance and why the misconceptions in the previous section are not correct and could be catastrophic if you believe them.


Accidents happen. While accidents may be rare, they do happen—and when they do, the cost of medical and legal fees may far outstrip the cost of production insurance. You could end up with significant financial exposure if you don't have insurance, and in a worst case scenario, you could lose everything.
You have legal & regulatory responsibility for the events you produce. While it might be ideal to have all freelancers provide their own insurance, you need to protect your interests. If you hire even one freelancer who's not covered, then you will bear the legal & regulatory responsibility for anything that goes wrong. Most states will not honor a waiver signed by a freelancer, so you'll still be liable for what happens.
The costs are not as high as you might think.

While some insurance companies charge a lot for production insurance, that's often because they're including coverage that you don't really need. On a related note, if you use Mertzcrew to provide these coverages, you can save money during routine audits since covered techs will be removed from the audit that is assessed against your company policy.
How to Get Production Insurance
Obtaining production insurance doesn't need to be complicated. While you can choose to have freelancers procure production insurance for themselves, the quality of insurance may vary greatly and you'll be responsible for tracking their coverage and compliance. As we noted above, your financial and legal liability is unlimited without production insurance.

You can obtain production insurance independently or you can partner with Mertzcrew and let us do the work for you. We help leading AV production companies contract, insure, and pay AV freelancers around the world and at sea.

As you consider your options, keep these factors that can impact the cost of production insurance in mind:
Total policy limit
Deductible
Location
Number of workers covered
Value of equipment covered
Venue requirements

You'll need to keep these factors in mind if you decide to shop for production insurance on your own. If you work with Mertzcrew, we'll take care of them for you to make sure you have the coverage you need.
Get the Production Insurance You Need with Mertzcrew

Both AV production companies and AV freelancers benefit from having production insurance in place. It shields everybody involved in event production from medical expenses and financial liability for accidents, professional errors and omissions, lost wages, and more. While it's undeniably an expense, the cost of not having production insurance is far greater than the cost of buying it.

Is Mertzcrew the right AV freelance management solution for you? It's easy to find out! Simply click here to schedule a free 15-minute assessment call where we'll discuss your needs, the benefits of using Mertzcrew, and how we can help you book quality freelancers, ensure compliance, reduce administrative fees, and execute your best AV project.


Topics: Production Insurance